By Georgina Yarwood, investment strategy analyst, Vanguard Europe
Vanguard's believes in long-term, goal-oriented investing based on an investor's tolerance for risk. We don't advocate tactical trading or speculative trend-chasing, but there is one aspect of portfolio management that may require regular intervention – rebalancing.
Some all-in-one multi-asset funds, like our LifeStrategy and Target Retirement fund ranges, rebalance automatically. If a portfolio is made up of different funds, however, the onus is on the adviser to manually rebalance portfolios on behalf of clients.
That said, persuading investors to top up assets that are falling or providing lesser returns at the expense of their best-performing investments is a difficult conversation to have. It is an important conversation nonetheless and at Vanguard we believe rebalancing is crucial to helping investors achieve long-term investment goals.
Historically, rebalancing opportunities have occurred when there has been a wide dispersion between the returns of different asset classes (such as equities and bonds). Whether in bull or bear markets, reallocating assets from the better-performing asset classes to the worse-performing ones can feel counterintuitive.
This is where an adviser can add value by providing the discipline to rebalance when it is needed most, which is often when it involves a very uncomfortable leap of faith. If clients are resistant to the idea of rebalancing their portfolio, getting them on board may come down to highlighting the risks of not rebalancing.
Why rebalance?
It will come as no surprise to most advisers that asset allocation has been found to be the most important determinant of long-term investment success1. That's why portfolio construction requires a thoughtful approach that considers the investor's goals and risk appetite, resulting in a balanced investment portfolio tailored to the client.
After deciding on the optimal mix of assets and sub-asset classes to hit a client's investment targets, as time goes by that original asset allocation will drift, as shown in Figure 1. This effect, known as portfolio drift, is common during normal market cycles, but can become more acute during times of increased volatility.
Regular rebalancing maintains the risk and return profile
Changes in stock exposure for a rebalanced portfolio and a 'drifting portfolio'
January 1960 – December 2020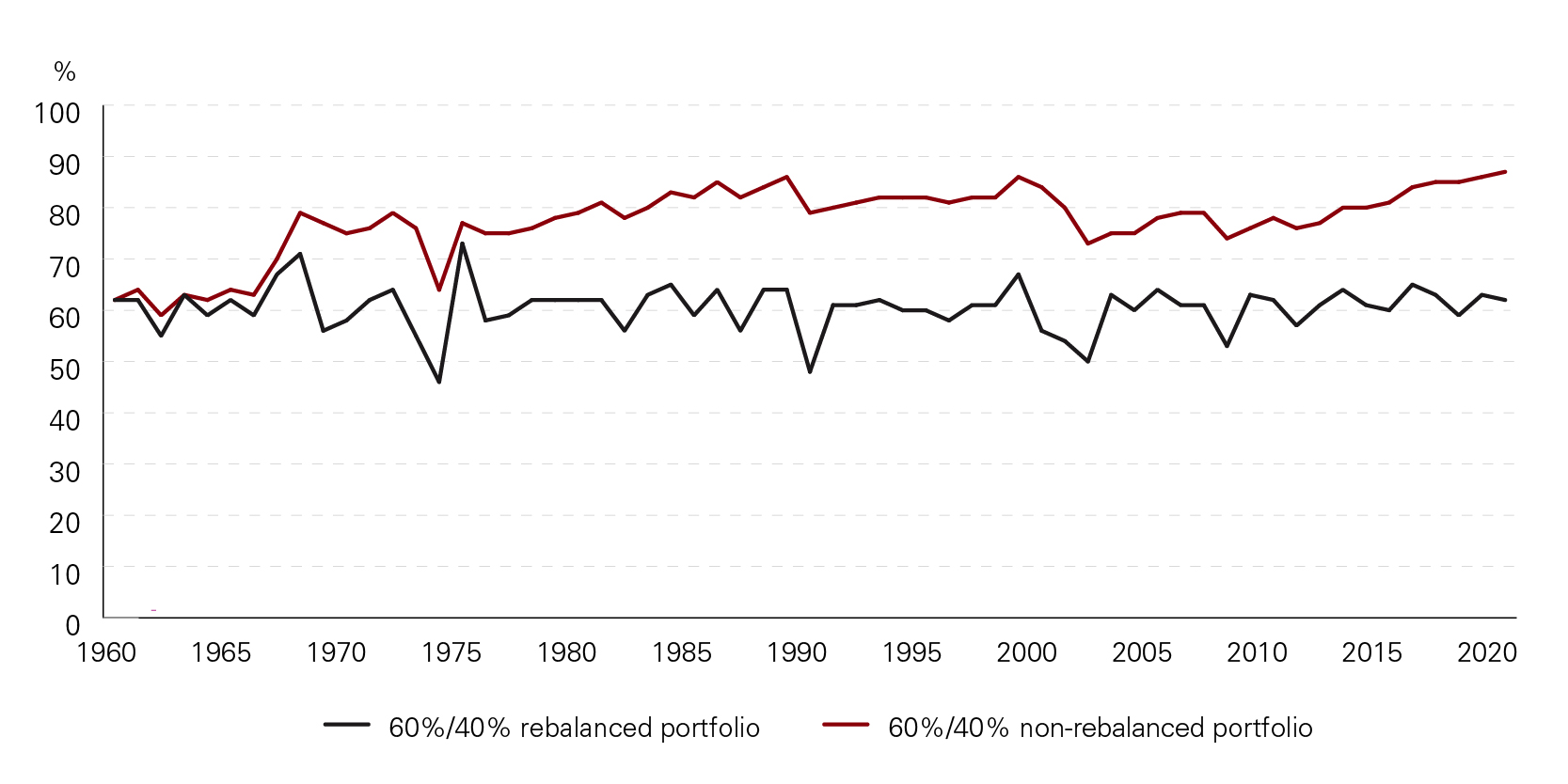 Source: Vanguard calculations, based on data from Thomson Reuters Datastream and Bloomberg Barclays. Data from 4 January 1960 to 31 December 2020.
Notes: The initial allocation for both portfolios is 60% global equity and 40% global bonds. The rebalanced portfolio is returned to this allocation at the end of each June and December. Global equity is defined as the MSCI All Country World Investable Market Index, GBP un-hedged. Global bonds are defined as the Bloomberg Barclays Global Aggregate, hedged to sterling. Returns are in GBP with income reinvested.
The chart above shows the effect of portfolio drift by comparing the mix of a rebalanced and non-rebalanced portfolio over time, both of which have an initial allocation of 60% global equity and 40% global bonds. The rebalanced portfolio is returned to its target allocation at the end of each June and December, whereas the non-rebalanced portfolio drifts to more than 80% equity – greatly changing the risk profile of the portfolio.
Manage risk
As opposed to maximising gains, clients need to understand the objective of rebalancing is to mitigate the risk of portfolio drift and unintended exposure to one asset class over another. While 'running the winners' might seem intuitive – i.e. keeping hold of the best performing assets – it is usually the higher-returning investments that carry the most risk. In other words, a portfolio's best performers could become the biggest detractors further down the line.
Figure 2 below shows the best, worst and average returns for different stock/bond allocations over more than a century. Higher expected return comes with heightened risk, which over time can be mitigated by regular rebalancing to realign with an individual's tolerance for risk.
Historically, higher-return assets have brought increased risk
Best, worst, and average returns for various stock/bond allocations, 1901-2019
Source: Vanguard.Note: Reflects the maximum and minimum calendar year returns, along with the average annualised return, from 1901-2019, for various stock and bond allocations, rebalanced annually. Equities are represented by the DMS UK Equity Total Return Index from 1901 to 1969; thereafter, equities are represented by the MSCI UK Index. Bond returns are represented by the DMS UK Bond Total Return Index from 1901 – 1985; the FTSE UK Government Index from Jan 1986 – Dec 2000 and the Bloomberg Barclays Sterling Aggregate Index thereafter. Returns are in sterling, with income reinvested, to 31 December 2020.
So, given the uncertainty swirling around the global economy in light of the wide-ranging and extraordinary consequences of the Covid-19 pandemic, clients may be more receptive to the risk-mitigating benefits of portfolio rebalancing. Once the benefits of rebalancing are understood and the client is on board, the next step is to decide on the best approach to redress the balance.
Rebalancing options for advisers
The rebalanced portfolio in Figure 1 uses a simple 'time-only' rebalancing strategy, but more sophisticated approaches are also available. A time-only strategy will rebalance on a given date, regardless of the relative performance of the portfolio's component assets. In a threshold-only strategy, rebalancing is triggered when a portfolio's asset allocation has drifted by a given amount, say by 5%, irrespective of how often this happens.
A strategy combining the two will monitor the portfolio on a given schedule and have pre-set thresholds, but rebalancing will only occur when the two trigger-points cross. Here's a simple breakdown of three common approaches to rebalancing:
Time only—rebalancing on a set schedule, such as daily, monthly, quarterly or annually.
Threshold only—rebalancing when a target asset allocation deviates by a predetermined percentage, such as 1%, 5% or 10%.
Time and threshold—rebalancing on a set schedule, but only if a target asset allocation deviates by a predetermined amount, such as 1%, 5% or 10%.
Vanguard research has found that none of the major rebalancing approaches holds a distinct or enduring advantage over the others. Advisers therefore ought to identify the best approach for the client and apply it in a consistent and disciplined manner to give them the best chance of reaching their long-term financial goals. Another way to redress the balance would be to direct any new cash contributions to those holdings that have underperformed.
We believe investors should stick to their investment plans and regular rebalancing is an effective way of keeping clients on track to reach their investment targets. Download the PDF below and share it with your clients to help them understand how a well-planned rebalancing strategy can be used to help dial down risk in their portfolios.
1 Gary P. Brinson, L. Randolph Hood, and Gilbert L. Beebower, 1995. "Determinants of portfolio performance." Financial Analysts Journal 51(1):133–8. (Feature Articles, 1985–1994.)