Commentary by Shaan Raithatha, economist, Vanguard UK.
So-called 'Freedom Day' may have been delayed but it's of little material difference to the UK economy, which we now believe is on track to get back to its pre-pandemic size sometime in August or September.
That's thanks in large part to the efficacy of the country's vaccination programme, which is helping to temper the potential for a third Covid wave – one driven by the more tranmissable 'Delta' variant of the virus.
The chart below illustrates how close to this milestone we now think the UK economy is, which is a significant improvement on our prognosis last year when we weren't projecting this until the turn of 2021/22.
Recovery expected to continue through summer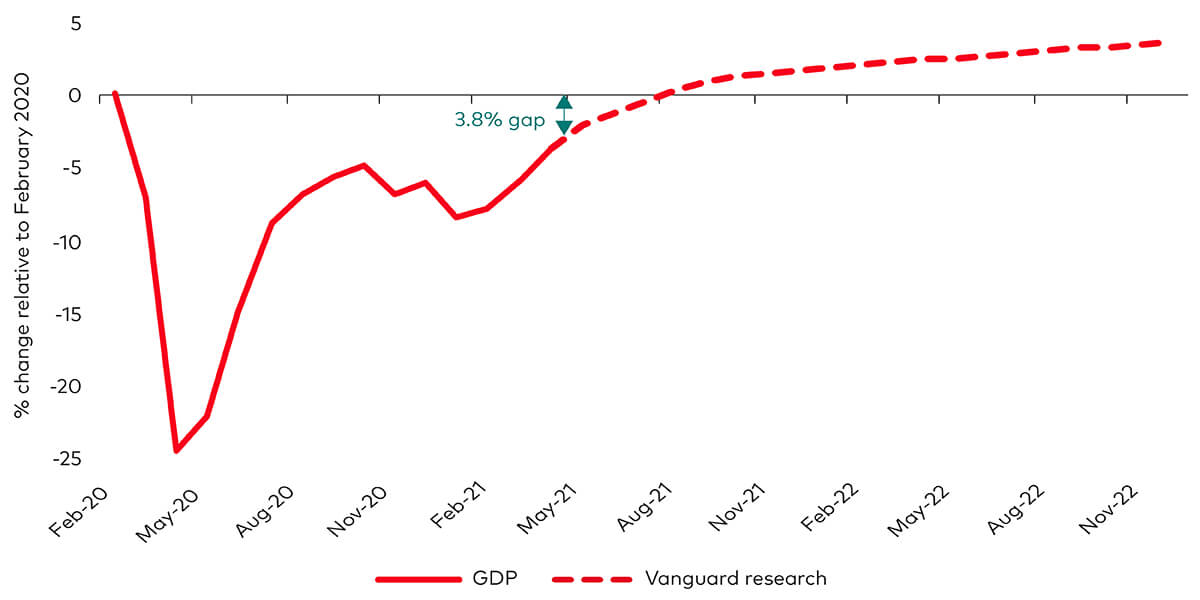 Source: ONS, Vanguard calculations.
The bounceback in economic activity has been primarily driven by those sectors that were hit hardest by the pandemic, which include retail, leisure, recreation and hospitality. The most recent survey evidence suggest this trend will continue throughout the summer.
We expect UK GDP to grow by around 7% in 2021 and by around 5% in 2022. Although these high growth rates are very welcome, they will still leave the economy smaller that it would have been had it continued growing through the pandemic, indicating some permanent scarring of the UK economy.
As life returns to normal, the Bank of England has signalled its intention to gradually unwind some of its emergency support measures. We expect it to complete its asset purchases by the end of the year and to raise the bank rate in 2023 at the earliest.