Commentary by Andreas Nagstrup and Johnny Will, Vanguard credit analysts
What slowing issuance means for credit
For many observers of the corporate bond markets, 2020 was a notable year. Amid an unprecedented global health crisis in the form of the Covid-19 pandemic, corporate bond issuance in Europe hit a record high. Compared with a then record-setting 2019, new issues increased by 6%1.
Following the explosion of new bonds hitting the market in 2020, January 2021 began in a quieter fashion. Issuance was down 22%1 on an annual comparison with January 2020. Is this an early indication that 2021 will be a generally slower year for corporates coming to the capital markets to raise new funds? We think so, for a number of reasons.
The initial shock of Covid-19
Following the initial shock when the pandemic first took hold, prompting decisive stimulus measures from major central banks, credit issuers came to the market in droves. Corporates from across the credit spectrum issued debt in record amounts – the stronger companies in preparation for the uncertainties that lay ahead; the weaker ones, to satisfy more immediate cash needs.
The European Central Bank (ECB) was a large buyer of bonds in the European investment-grade credit market, purchasing over EUR 27 billion of new deals2. This boost to demand helped companies keep their funding costs low, which in turn may have encouraged others to switch their funding mix away from bank loans to the capital markets.
Pan-European cumulative credit issuance for the past four years (USD billions)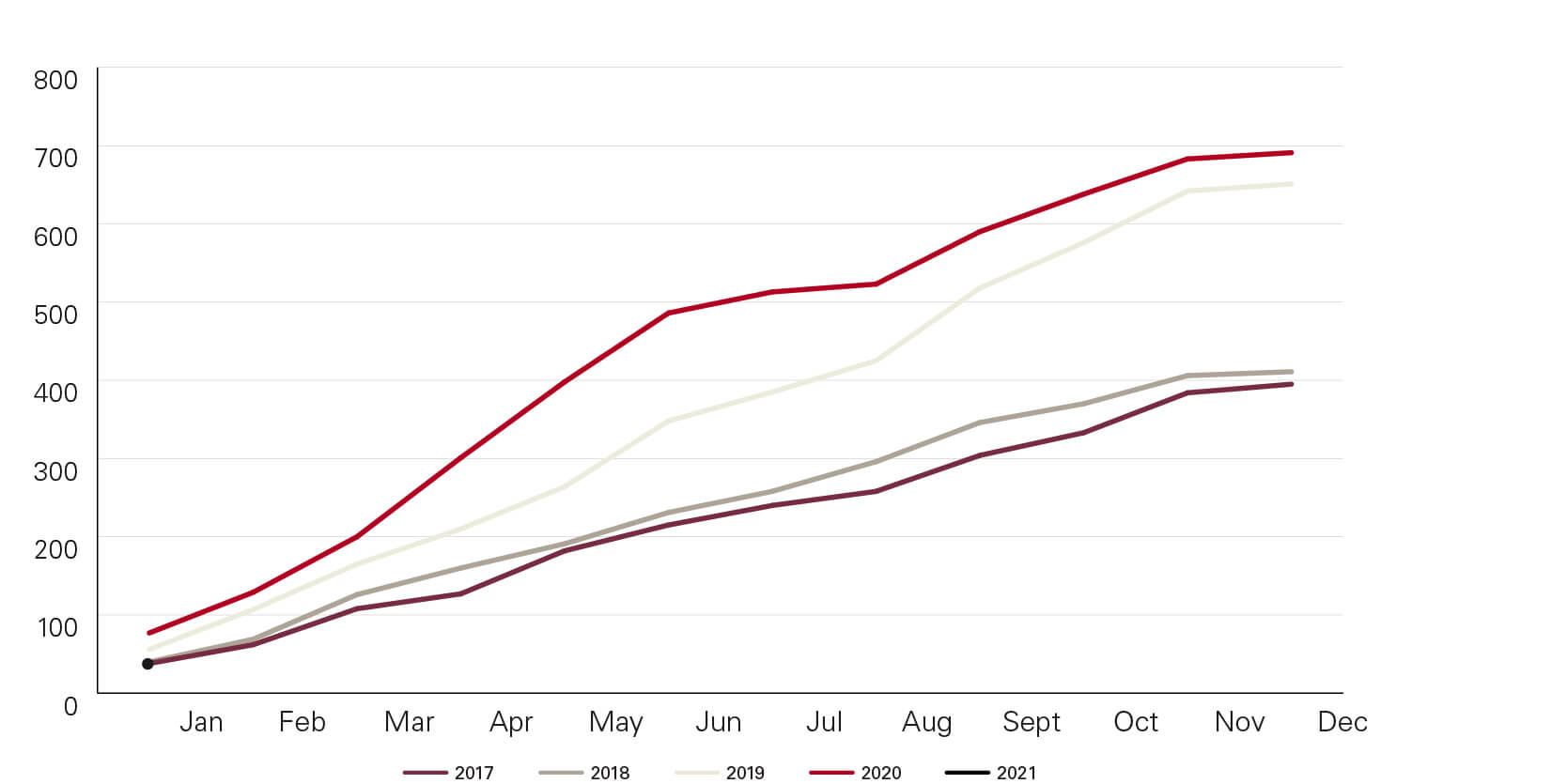 Source: Bloomberg and Vanguard. Pan-European cumulative credit issuance, as represented by the Bloomberg Barclays Pan Euro Aggregate: Corporates Index. Data as at 31 January 2021.
Uneven trends in issuance
This rush to the capital markets was not evenly spread across sectors for various idiosyncratic reasons.
Issuance in the energy sector, for instance, rose dramatically as government measures to slow the spread of the pandemic prompted lockdowns. These weighed heavily on the price of oil, causing a cash-flow shock and leading to significant liquidity constraints. Integrated energy companies came to the capital markets for support, increasing their share of new bond issuance from 2% in 2019 to 7.5% in 20201.
Banks, on the other hand, had less need to issue debt capital as lockdowns boosted savings deposits while extraordinary support from governments and central banks also lessened banks' immediate liquidity requirements. Their share of total new issuance dropped from 35% in 2019 to 26% in 20201.
Elsewhere, issuance by food and beverage companies increased (to 6% of issuance in 2020 from 2.5% in 20191), driven largely by their coming to the market when uncertainty was at its height. Conversely, telecoms issuance dropped (from 7% in 2019 to 3% in 20201) partly due to the reassurance that demand for telecoms services would stay strong and in fact would more likely increase in an environment of social distancing and lockdowns.
A view of the horizon in 2021
Following the record issuance in 2020, investment-grade companies are now in strong positions with regard to liquidity and have less need to access bond markets in 2021. This is probably part of the explanation for why January 2021's issuance levels were down on the numbers from the corresponding month last year.
We anticipate that this trend of deceleration will continue as we go through the year and estimate that 2021 issuance will be down significantly on 2020 levels. The supportive market environment created by lower issuance should be reinforced by continued ECB corporate bond purchases, coupon reinvestments, tenders (bond repurchases) and bonds falling out the index (excluded as maturity falls below one year).
Pan-European Corporate Bond Index growth expectations for 2021 (USD billions)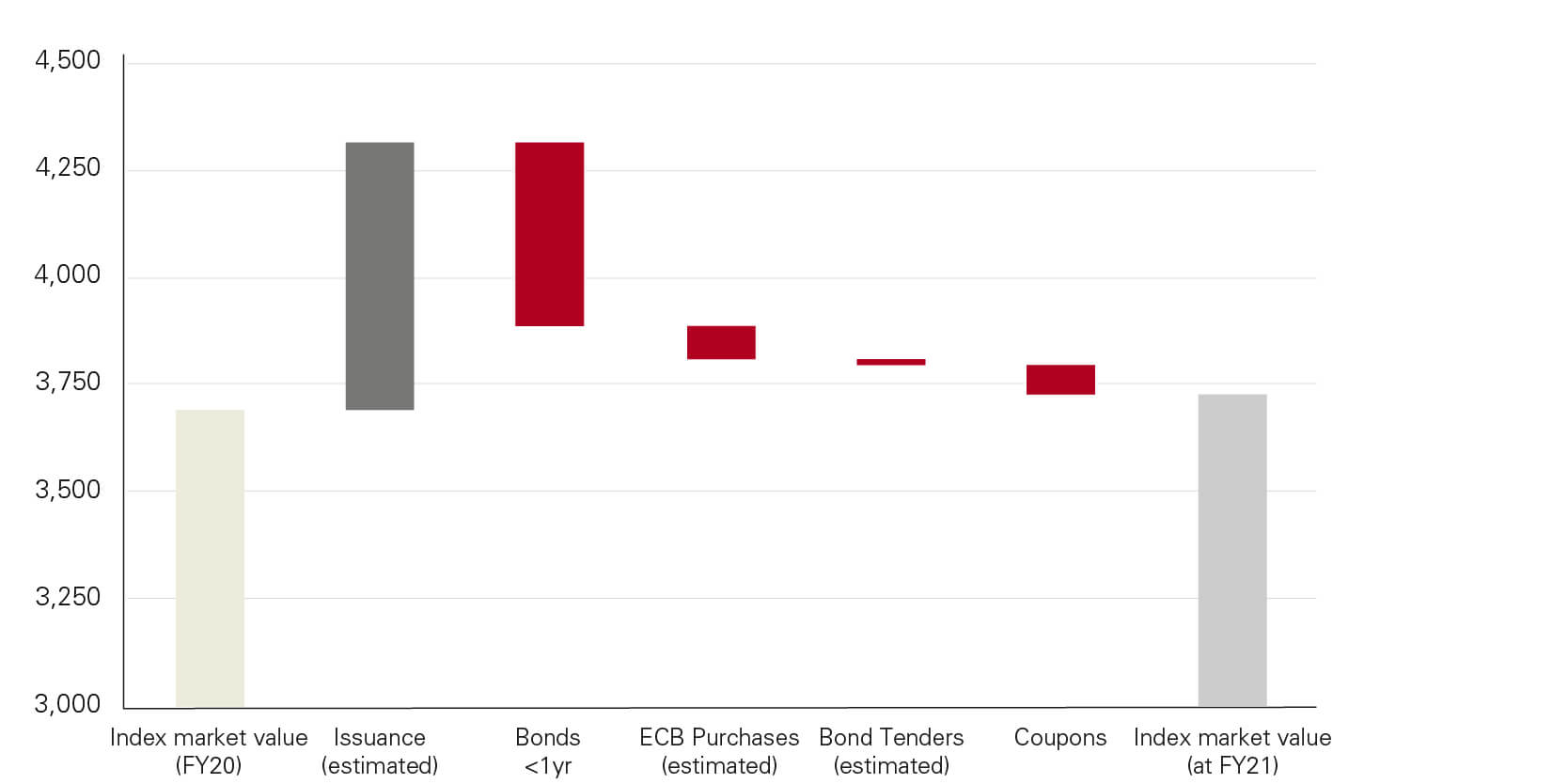 The Pan-European Corporate Bond Index includes all investment grade corporate bonds issued in EUR and GBP.
Source: Bloomberg and Vanguard, as at 31 January 2021.
There are a few significant themes we expect in 2021. These include: a drop in issuance by companies operating in Covid-19-sensitive sectors such as energy, as they find support from a rebound in economic activity; banking issuance to remain subdued as a result of the continued support from the ECB; an increase in the number of "reverse Yankee" bonds (US companies issuing euro-denominated bonds), to fund large projects and merger and acquisition activity, most notably in the communications sector; and continued strong issuance in the environmental, social and corporate governance (ESG) space, with companies increasingly linking new issuance to their ESG targets and the investment in projects to achieve them.
Seizing shifting opportunities
The flood of issuance in 2020 followed by a reduction in new issues in 2021 means that attractive buying opportunities in the new issues market will be less prevalent than they were during the market turmoil of 2020.
The slowing of issuance also has implications for credit spreads. After spiking in March 2020, at the peak of market volatility, credit spreads have since steadily compressed. As the supply of new bonds diminishes, this trend has the potential to impact security prices beyond levels justified by investment fundamentals.
For active credit investors, this means there is less of a lever to generate performance from new issues in 2021, especially as new issue concessions are very limited in the prevailing environment. Identifying mispriced opportunities in the secondary market will therefore be crucial to performance this year. Further, if volatility increases, we also expect to see more relative value opportunities.
Vanguard's large global fixed income team, including credit research analysts and traders, with their bottom-up, fundamentals-based, insight, combined with our disciplined approach to risk taking, makes us well positioned to identify and invest in these opportunities.
1 Source: Bloomberg, as at 31 January 2021.
2 Source: European Central Bank: Corporate sector purchase programme (CSPP) holdings change from December 2019 to December 2020 + Pandemic emergency purchase programme (PEPP) primary purchases to end of November 2020.