Commentary by Sarang Kulkarni, portfolio manager, and Loubna Moudanib, credit analyst.
Interest rates spiked in the opening weeks of 2021, rattling the markets, but they have been at or near historic lows for most of the past decade. And our forecast is for them to rise, but only modestly, as monetary policy normalises.
This has left banks, which represent about one-fifth of the global investment-grade credit market, in a tough spot1.* With net interest income—traditionally their bread-and-butter business—continuing to decline, many banks have been trying to adapt by seeking revenue opportunities elsewhere. New business models, though, have brought new challenges in assessing their credit fundamentals.
Analysing the creditworthiness of bank debt has always been a difficult task, given the structural complexity of each layer of debt capital, the valuation differences across the debt layers and the unique regulatory regimes. The shift by banks into non-interest income areas like wealth management, private equity, prime brokerage and proprietary trading has made that task more complex—and more critical for investors to get right.
Lending doesn't pay what it used to
In the wake of the 2007–2008 global financial crisis (GFC), central banks in many developed economies slashed short-term interest rates to near zero. This had the intended effect of reducing financing costs for borrowers, but it also squeezed banks' net interest margins—the difference between the rate of interest they earn from lending and the rate they pay savers for deposits.
Net interest margins have also come under pressure from increased competition from non-bank financial institutions, which don't face as much regulation and have driven down margins across lending segments, including mortgages, payment services, auto lending and commercial credit.
When the GFC hit, the average net interest margin for US banks began trending lower. Margins recovered to over 3% in 2018 when the US Federal Reserve (Fed) started raising rates, but slumped, to around 2.7%, as the Fed again cut rates to near zero to blunt the impact of the Covid-19 pandemic. The average net interest margin in Europe and Asia-Pacific is currently even lower than that, at around 1.2%. Short-term policy rates there are also near, at, or even below zero.
Banks' net interest margins have tracked interest rates to cyclical lows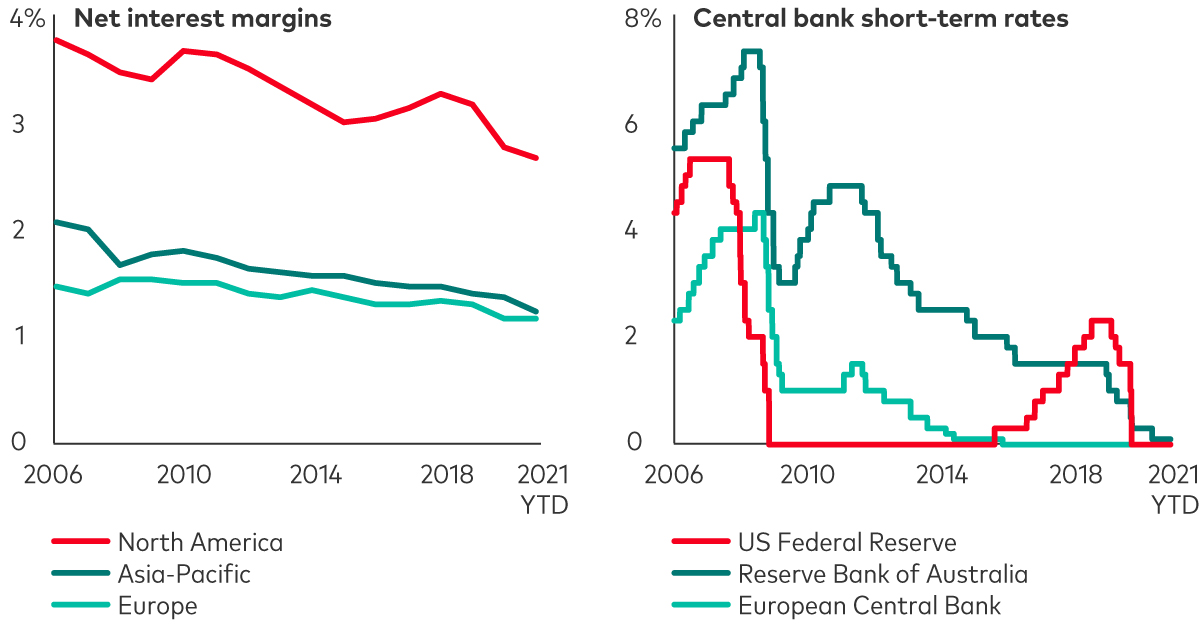 LHS chart notes: The chart reflects average net interest margins for each calendar year, except for 2021, where the figures are year-to-date averages. The Asia-Pacific category includes Australia and Japan. Data for the years 2006 through 2020 are as of the end of the relevant calendar year; data for 2021 are year-to-date using the latest available data as of 1 June 2021.
Sources: Vanguard, using data from S&P Global Market Intelligence.
RHS chart notes: The data for the US Federal Reserve is the lower bound of the federal funds target rate, the data for the European Central Bank is the effective one-week minimum bid refinancing rate and the data for the Reserve Bank of Australia is the daily cash rate target. Data are as of 31 May 2021.
Sources: Vanguard calculations, using data from Bloomberg.
In response, banks have been racing to innovate and transform
The decline in net interest margins—exacerbated in some cases by structural issues such as overbanking, high operating costs and lack of diversification—has driven banks to look beyond lending for growth and revenue opportunities.
The pace of change has varied greatly by region, mainly because of differences in regulatory constraints, banking systems' health, and the ability and willingness of individual institutions to change. The paths banks have taken to generate more revenue have varied as well, but they generally focus on fees and commissions income. Some banks have diversified to become financial "supermarkets" providing wealth management, insurance, private equity and brokerage trading. Others have taken niche approaches.
Banks have been exploring new opportunities out of necessity. We've seen everything from Spanish banks maintaining and increasing their exposures to emerging markets, to Nordic banks charging corporate customers to hold money in their checking accounts, to Asian banks acquiring stakes in ride-hailing apps, digital banks and e-commerce firms.
These efforts to find profits from activities other than lending have generally been successful. Along with unprecedented amounts of pandemic-related monetary and fiscal stimulus, the new activities have supported return-on-equity ratios—although those ratios still vary significantly by region.
Profitability at US banks has proved resilient; European banks still face some structural issues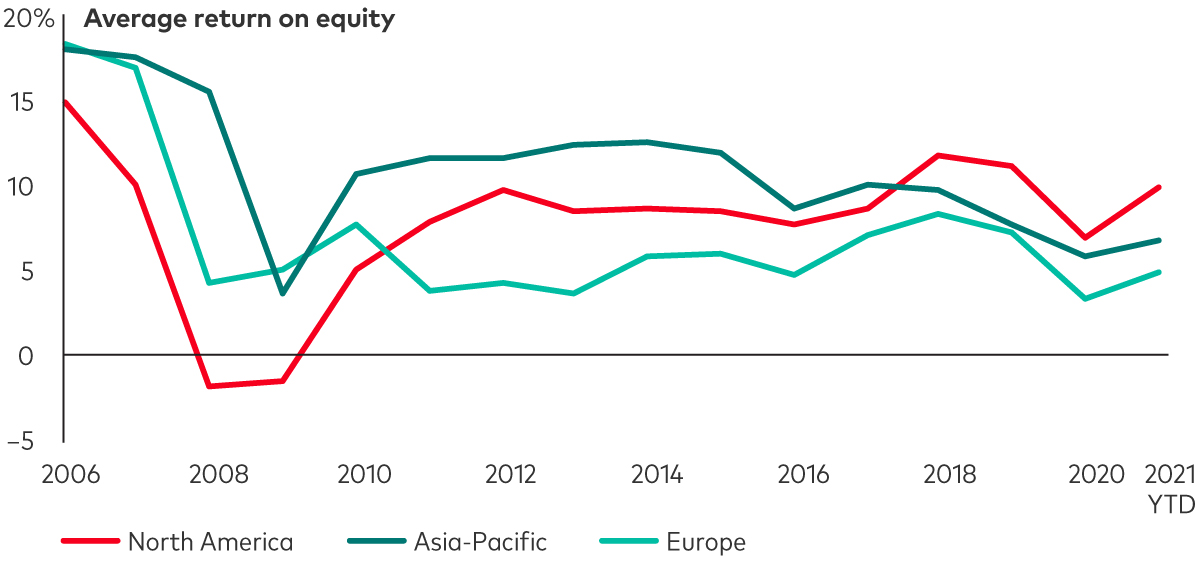 Notes: Average return on equity is calculated as net profit as a percentage of average equity on an annualised basis. The Asia-Pacific category includes Australia and Japan. For 2021, data are year-to-date using the latest available data as of 1 June 2021. For all other years, year-end data shown. All data are as of 1 June 2021.
Sources: Vanguard, based on data from S&P Global Market Intelligence.
How changing business models have complicated credit analysis
The proliferation in banking business models has left credit analysts with the challenge of sorting out the extent to which a bank's new non-lending activities—whatever they may be—are a good strategic call in terms of risk and return.
Examining a bank's capital base has traditionally been a key part of stress analysis conducted to determine how well the bank might weather a negative economic shock. The higher capital adequacy requirements imposed by regulators after the GFC, however, has led to a near-doubling of bank capital since 2009—largely from increased equity and decreased leverage.
The quality of capital has improved as well. Tier 1 common capital ratios, which weigh risky assets more heavily than less risky assets, have improved significantly since 2009.
Banks, especially in Europe, have significantly boosted their capital positions since the GFC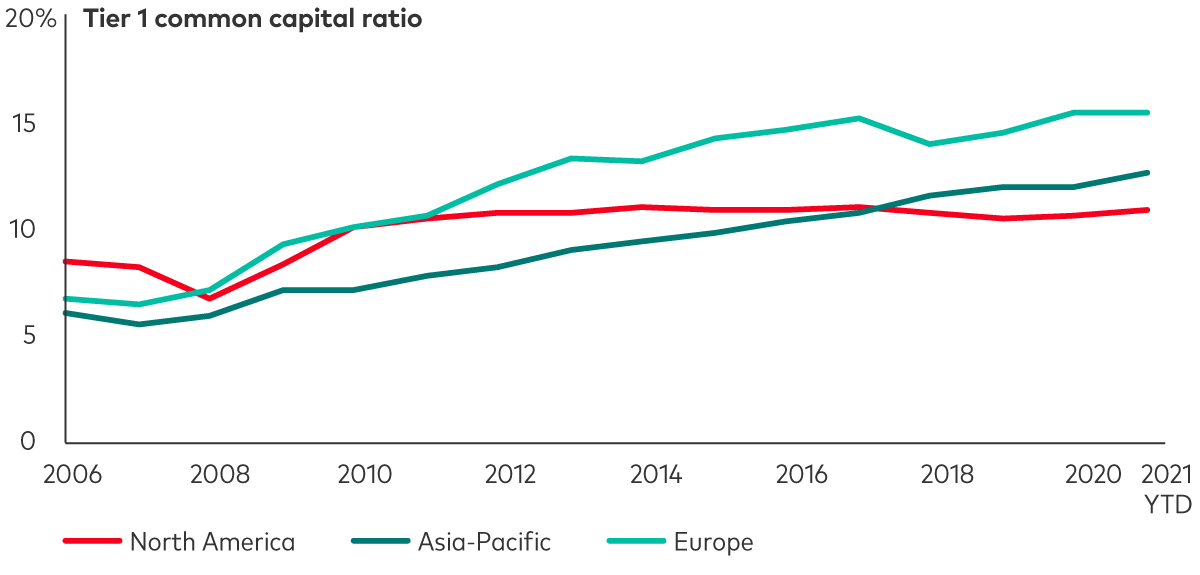 Notes: Tier 1 common capital ratio is calculated as a percentage of total risk-adjusted assets. The Asia-Pacific category includes Australia and Japan. Data for the years 2006 through 2020 are as of the end of the relevant calendar year; data for 2021 are year-to-date using the latest available data as of 1 June 2021.
Sources: Vanguard calculations, using data from S&P Global Market Intelligence.
Being better capitalised is certainly a good thing, but the tough question for credit analysts is: Is that improvement sufficient to cover any additional risks—whether those are credit, market, or operational—that banks have assumed because of these new business models?
The recent multi-billion-dollar losses reported by global banks affected by the high-profile collapse of a financial services firm and a supply chain finance company are stark illustrations of the risks non-lending activities can entail.
Where we see value now in the banking sector
Vanguard's experienced team of credit research analysts dedicated to the financials sector works collaboratively across geographic regions and in different currencies. This global coverage allows the team to leverage the best security selection opportunities wherever they may be found.
Getting credit calls right in this sector helps the active bond funds managed by Vanguard's Fixed Income Group to potentially outperform their benchmarks. It helps our index bond funds as well: Because those funds' portfolio managers generally use a sampling approach, our credit team's recommendations can help them make informed decisions when choosing among similar issuers or among different debt structures from a given issuer.
How will low rates affect lending margins, bottom-line profitability, and capital? The results of our analyses are summarized in the table below.
How will low rates affect banks?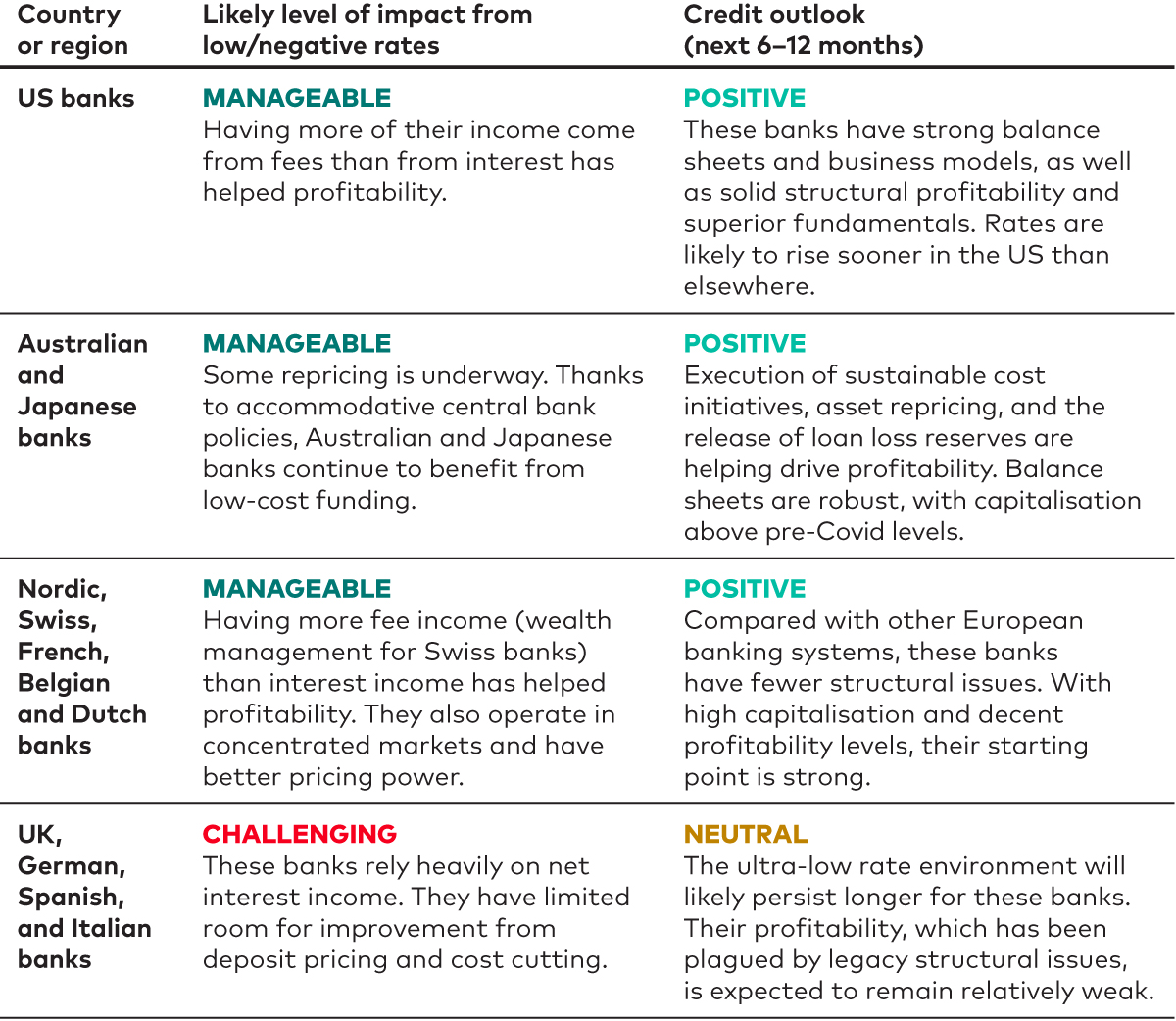 Any projections should be regarded as hypothetical in nature and do not reflect or guarantee future results.
Source: Vanguard.
Note: The credit outlook period is from June 2021 on.
In the US, banks with good reputations and strong financial performance should fare well. As the large banks are trading within a relatively tight range, focusing on those with the strongest fundamentals makes sense.
In Europe, senior non-preferred debt is attractive, as issuance is expected to be relatively light in the near term, and valuations have not climbed as much as they have for safer senior preferred debt. Among riskier Tier 2 debt, we see opportunities with Nordic and Benelux banks because of their solid fundamentals.
In Asia-Pacific, we see value in investment-grade-rated Australian Tier 2 or subordinated debt that offer yields in excess of 2.5%.
Analysing the credit fundamentals of banks has certainly become more complex. But that complexity is actually what helps Vanguard's credit analysts identify the likely winners and losers globally— which in turn helps the Fixed Income Group as they seek to produce the best risk-adjusted returns for our funds.
Written in collaboration with Alicia Low, head of credit research for the Asia-Pacific region, and Erick Miller, senior credit analyst for North America.
Active Fixed Income at Vanguard
Vanguard's active fixed income team manages over $559 billion across various actively managed fixed income strategies. For nearly 40 years, Vanguard has managed active fixed income funds with an experienced team of credit research analysts, traders and portfolio managers.
Data as at 31 December 2020.
Our active bond funds managed in-house
1 Source: Bloomberg, as of 11 June 2021, using the Bloomberg Barclays Global Aggregated Credit Index as a proxy for the global investment-grade credit market.