By Shaan Raithatha, economist, Vanguard UK
The cost-of-living squeeze is all-too-real and it's likely to get worse before it gets better. But some relief is within sight, according to our analysis, which shows inflation easing off later this year.
Data published this month showed annual headline inflation in the UK rose to 5.4% in December – its highest level in almost 30 years and its highest since the Bank of England first adopted a formal inflation target in October 1992.
That means many investors today have never witnessed such a decline in the purchasing power of their money.
Driving the surge in inflation is rising food and energy prices, as well as shortages in the supply of certain products and workers, from computer chips to lorry drivers. And we are not done yet. News that Ofgem's regulatory price cap, which dictates how high gas and electricity bills can go, is set to rise by 54%1 means that in Vanguard's view inflation will likely peak at more than 6% in April2.
Thereafter, Vanguard's economics team expects the rate of price growth to fall, as the chart below shows.
Headline UK inflation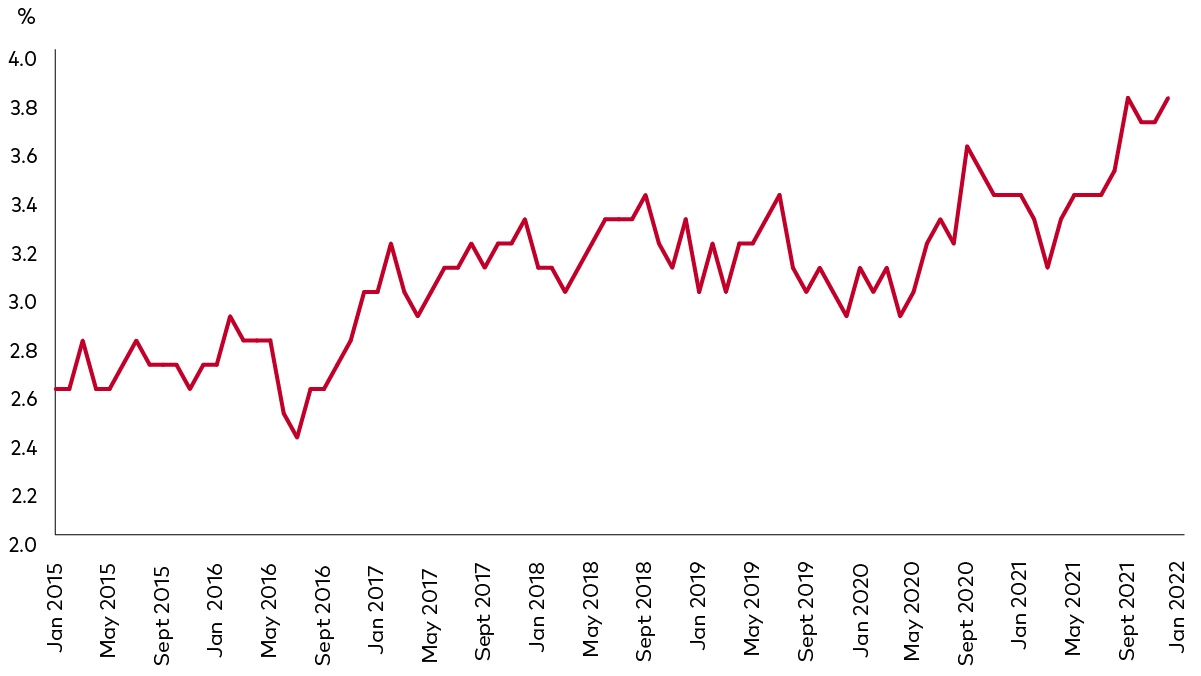 Source: Bloomberg, Vanguard.
There is a catch, though, which is that we do not see inflation returning to pre-pandemic levels any time soon. Instead, we expect inflation to remain above 3.5% for the rest of the year due to persistent bottlenecks in global supply chains, higher expectations for inflation in the future and rising wages.
After all, survey-based measures of inflation expectations over the medium-term have increased recently, as the chart below illustrates.
Expected development of consumer prices over the next 5 to 10 Years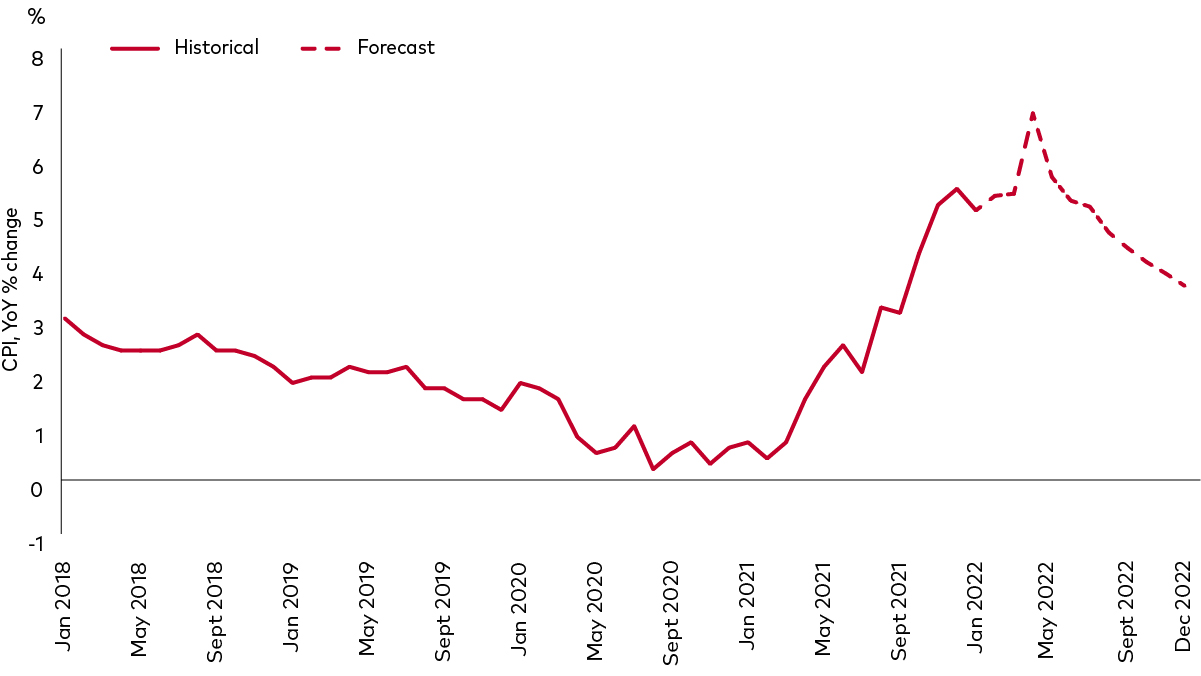 Source: YouGov/Citi
If sustained, higher expected inflation may prompt workers to demand higher wages to compensate for the increased cost of living. This, in turn, would stoke demand and further push up prices. Economists call this phenomenon a 'wage-price spiral'.
What does it all mean for interest rates?
The persistence of expected above-target inflation in 2022, coupled with the threat of inflation dynamics spilling over into wage negotiations, are the key reasons why the Bank of England raised interest rates again to 0.5% this week.
We don't think that the central bank will stop there. Given our view that UK economic output will continue to recover over the course of the year, and our outlook for inflation, we pencil in at least another two rate rises this year, which would take the Bank of England's main policy rate up to 1%. The UK's central bank will also begin reducing the size of its balance sheet this year, which has ballooned as a result of its quantitative easing purchases.
What does this mean for investors?
Like other central banks, including the US Federal Reserve, the Bank of England is starting to "normalise" its monetary policy after years providing extraordinary support to the frail economy in the wake of the global financial crisis of 2007-08 and, more recently, the Covid-19 pandemic.
And as we have noted for some time now, that will provide a challenging market environment for investors, particularly with share valuations stretched in some markets and bond yields low.
That is why it is important to be realistic about stock market returns going forward.
While we remain positive about the investment outlook3, we also caution against simply expecting a repeat of 2021's heady gains.
We would encourage clients to stay focused on their goals by having an investment portfolio that is appropriately balanced and diversified.
1 This price cap is reviewed twice a year by the gas and electricity market regulator, Ofgem. The latest review takes effect from 1 April.
2 This follows the Treasury's announcement of a £9.1 billion Energy Bills Rebate package to help offset some of the energy price rises.
3 Based on projections by the Vanguard Capital Markets Model., UK investors can expect 10-year annualised returns ranging from 4.6% to 6.6% in the case of UK shares and 2.8% to 4.8% for those elsewhere in the world.