By Sarah Gibb-Cohen, senior investment product specialist, Vanguard Europe
At Vanguard, we have launched a range of actively managed funds designed to deliver value to investors who want to generate long-term growth from their investments, alongside the incorporation of sustainable investment criteria.
Vanguard's SustainableLife range is a suite of three active multi-asset funds with targeted allocations to equity and fixed income securities. The launch represents our commitment to helping investors balance their personal values with their financial goals as interest in sustainable investing continues to grow.
On this basis, we created the new funds with four sustainability principles in mind: a commitment to underlying companies having a net-zero carbon footprint by 2050; the exclusion of companies that may have a negative impact on society and the environment; a commitment to engage with portfolio companies on ESG issues; and the requirement that companies follow good governance practices.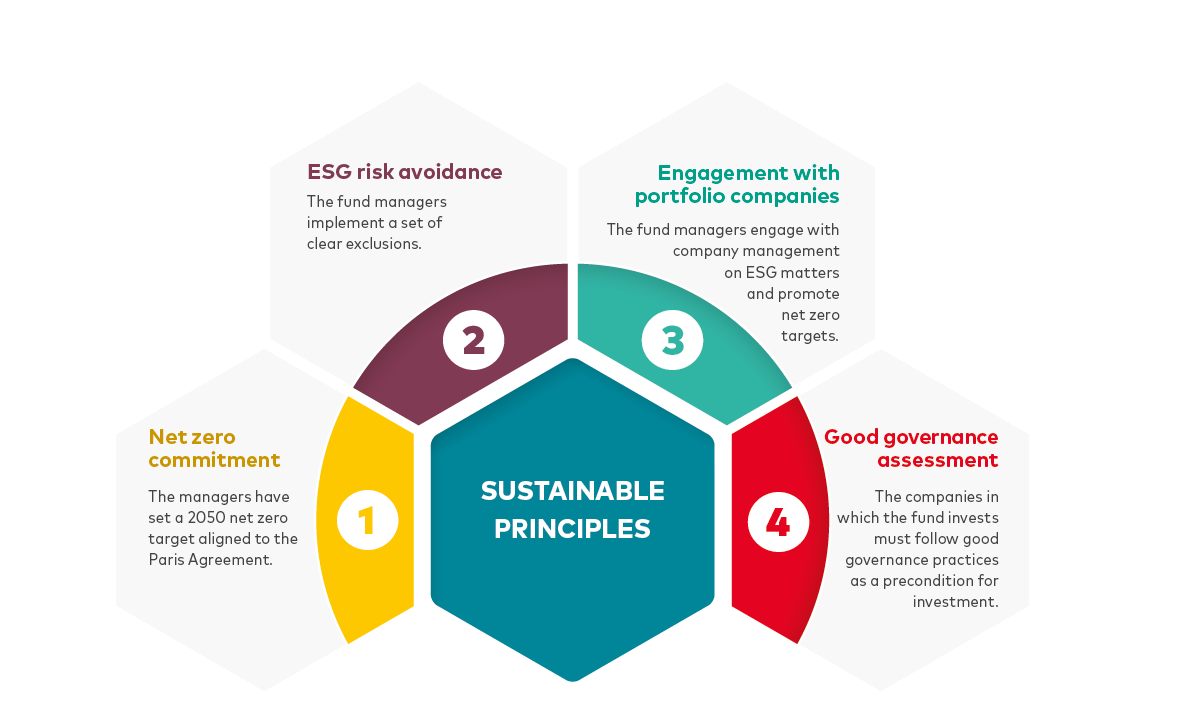 In this article we look at how the fund management team incorporates environmental, social and governance (ESG) considerations into its investment process, and its approach to company engagement in particular.
Introducing Vanguard SustainableLife active funds
The Vanguard SustainableLife range offers an all-in-one portfolio of equities and bonds. There are three to choose from and each with a different risk profile: the 40-50% equity fund, 60-70% equity fund and 80-90% equity fund, with the remainder exposed to bonds.
The equity portfolios are typically invested in securities of large and medium-sized companies, leveraging Wellington's deep research capabilities to identify investments that meet the funds' sustainability criteria on a case-by-case basis.
Portfolio managers Nataliya Kofman (equities) and Loren Moran (fixed income) engage with company management teams where they believe it will be meaningful to the long-term performance of a company and therefore likely to impact investment returns.
They apply this philosophy across both the equity and fixed income portfolios and take a multi-dimensional approach to incorporating ESG considerations.
Their portfolio management teams work closely with Wellington's dedicated ESG analysts, as well as its credit and equity analysts, on ESG considerations. Its ESG analysts provide a quantitative rating on more than 8,500 companies on E, S and G factors, as well as providing an additional fundamental rating for many of these, which often reflects the differing views held on a company.
By analysing the ESG ratings distribution within the portfolio and across the scores of individual names, Nataliya and Loren are able to identify companies that warrant further ESG research to determine the possible impact on an investment thesis and whether they are being compensated for the ESG risks.
They believe that an extended investment horizon combined with ongoing company engagement is part of their edge and that ESG considerations can be beneficial over extended holding periods, either through risk mitigation or value creation.
For the companies they invest in, they value both leadership with regards to ESG factors, and evidence of tangible improvement where ESG considerations are not best in class. Nataliya and Loren lean into fundamental ESG research to identify those companies that exhibit genuine commitment and engagement with ESG principles.
Company engagement: Nataliya Kofman and Loren Moran
Nataliya and Loren believe that engagement with portfolio companies provides the best opportunity for long-term investors to understand the ESG considerations that impact the industries and regions where they invest. In their view, this creates the greatest impact in terms of improving corporate behaviour, and therefore investment returns, over time.
Given that Wellington have long been integrating ESG considerations into its investment processes, Nataliya and Loren have excellent access to management teams for both the equity and fixed income holdings. Both portfolio management teams also regularly attend engagement meetings alongside ESG analysts, credit analysts and equity analysts.
These multi-disciplined interactions provide a balanced perspective on sustainability issues, offer an opportunity to raise specific ESG discussion points and serve to challenge assumptions about a company's management team and board structure.
---
The ESG considerations that are important to Nataliya and Loren include: environmental practices and the impact they have on energy transition and operational risks; social practices and the impact they have on advancing diversity and inclusion as to how companies operate, as well as the effect businesses have on local communities; and governance and the impact it has on capital allocation.
They evaluate environmental practices given that opportunities are created by energy transition, and because poor environmental risk management practices can lead to substantial financial and reputational risk.
They are focused on social aspects of diversity and inclusion because they believe that diverse boards and organisations lead to stronger corporate culture, better talent retention and positive reputational benefits in local communities.
---
Nataliya and Loren evaluate corporate governance through the lens of capital allocation and are focused on board oversight, because good management decisions on capital allocation are influenced by challenge and incentives.
At the overall portfolio level, Nataliya and Loren conduct dedicated ESG reviews to specifically discuss ESG considerations and to ensure the integrity of their ESG integration process.
---
General Motors, for example, is considered by Wellington to be an investment with improving capital allocation as a result of better governance. It is emerging as an industry leader in reducing carbon emissions through the introduction of electric vehicles.
It is looking to improve the carbon footprint of its own operations, and while the company has faced some shortcomings regarding its labour management practices, remedial actions have been implemented with the involvement of the board and CEO.
There have also been notable improvements in the quality of the board through the appointment of directors with backgrounds in technology, cybersecurity and advanced engineering. It also has a strong and growing representation of women in leadership positions including a female CEO with women comprising 32% of top management.
---
Engagement: an intrinsic component of research and decision making
At Vanguard, we believe that Wellington's ongoing direct access to company management is highly valuable given the number of meetings conducted, the breadth of contacts, and the quality of discourse. In general, Wellington prefers to engage privately with investee companies, as it has found that this encourages openness and a constructive and lasting dialogue.
By partnering with Wellington, which already has a long history of actively engaging with the companies it invests in, we believe that our new SustainableLife active funds range can deliver long-term, sustainable value to investors.