By Mohneet Dhir, Multi-Asset Product Specialist, Vanguard Europe
For many investors, single multi-asset funds can be an attractive 'all-in-one' solution to achieve long-term financial goals. These funds typically blend a mix of assets, such as equities and bonds, to create a broadly diversified portfolio. Vanguard multi-asset funds saw record cashflows in 2020, taking the total assets in our LifeStrategy range in Europe to more than £26 billion1, with the funds attracting advisers and retail investors alike, including me and members of my family.
The question that investors often ask is: can a single fund tick all these boxes? Can such an apparently 'simple' solution really cater to investors' needs? We believe they can but not all multi-asset funds are created equal, so it's important to check what's going on 'under the bonnet', so to speak.
Finding the right fund
Picking an all-in-one fund is much like many other decisions in life. Whether it's buying a house, choosing a nursery for your children or even just planning a holiday, it can be surprisingly difficult to find something that ticks all the boxes around quality and cost. Finding the right fund is not all that different, and it may in fact be a little easier.
In keeping with our four investment principles – goals, balance, costs and discipline – the first step is to check that a multi-asset fund is aligned with your clients' goals. Multi-asset funds can have varying objectives, so it really comes down to being clear about your client's ultimate financial aim.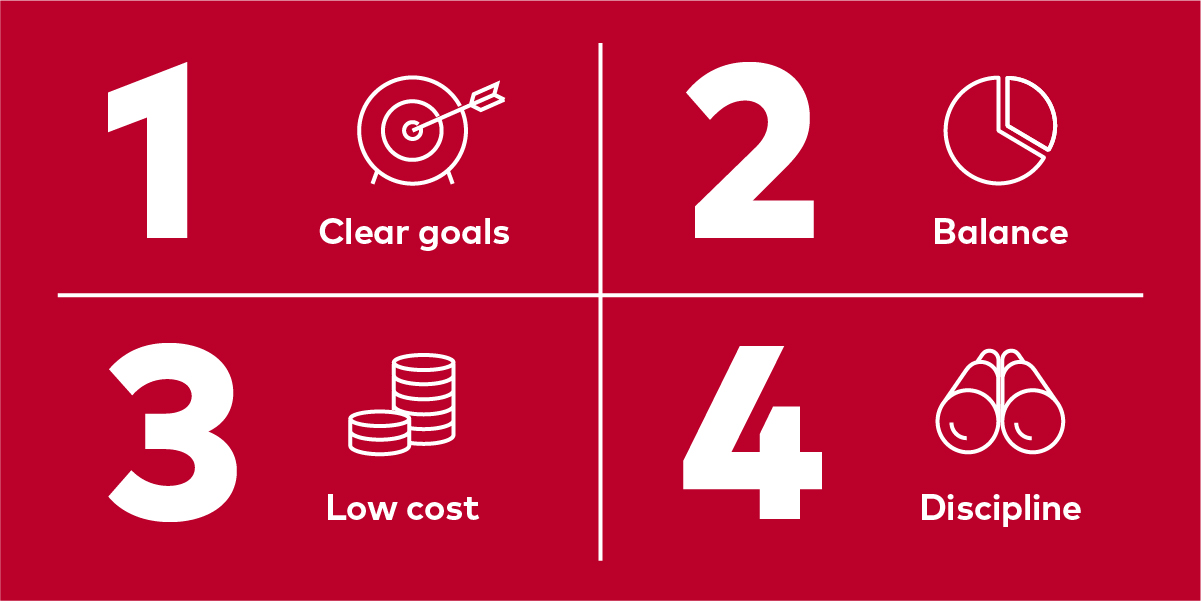 In my case, I'm invested in the LifeStrategy 80% equity fund, as I have a fairly long time-horizon meaning I can tolerate higher levels of risk. Additionally, I need a fund that can handle the complexities for me while providing reliable and consistent returns over the long term.
And I can do this because our range of LifeStrategy Funds offer varying splits of equity-to-bond ratios to cater for different risk tolerances, time horizons and financial goals. Perhaps clients are nearing retirement and require a fund with a very low risk profile – i.e. maybe they only want 20% invested in equities and 80% in bonds – or maybe they've got more time and are happy to take on extra risk in pursuit of higher returns with an 80% equity portfolio.
Making sure it's diversified
Within that overall allocation, look for multi-asset funds that offer broad diversification. If we look at the 60% equity LifeStrategy Fund as an example, it provides investors with exposure to more than 10 countries, 11 equity sectors and high-quality corporate bonds ranging from AAA to BBB, all within more than 26,700 unique holdings across equities and fixed income. That's what we call diversification.
If we drill down even further, there is another layer of complexity in that any UCITS fund of funds, including our LifeStrategy range, cannot own more than 25% of an underlying fund.
That means LifeStrategy investors are getting a level of product diversification that would be much more expensive to achieve by investing in individual funds, given the costs involved.
Keep your costs low
That ties nicely into the next investment principle, which is to think about costs. Financial markets are unpredictable. The future is unpredictable. But cost is one thing that investors can control.
Our research has shown that low-cost funds have a higher probability of outperforming costlier peers, spanning both active and index strategies2. If the cost is high you simply get to keep less of your returns.
A benefit of Vanguard's mutual structure in the US where it is the fund owners who own Vanguard*, is that Vanguard's interests are aligned with those of our investors globally, for example by keeping costs low. This is core to everything we do and our aim will always be to pass as much as possible back to our investors.
Being disciplined
The last principle is a tricky one and often the hardest. Being disciplined about investing is something that even the most seasoned investors struggle with.
Part of that challenge is sticking with your asset allocation, which has been found to be the most important determinant of long-term investment success3. As time goes by, the original asset mix can drift because part of the portfolio will outperform.
For example, if equities outperform bonds, the equity portion of the portfolio will gradually exceed the target allocation while the bond portfolio will diminish by the relative amount.
That's why we advocate regular rebalancing, which is the process of actively readjusting the portfolio's asset allocation to the intended mix. Some all-in-one multi-asset funds like our LifeStrategy Funds, rebalance regularly using cash flows to minimise costs and maintain the desired asset allocation.
In addition to rebalancing thresholds, our funds employ a dynamic approach to rebalancing when markets are more volatile. For example, in March 2020 – a highly volatile period – the rebalancing thresholds were moved slightly wider than they would be under more typical market conditions to avoid rebalancing in the wrong market direction. The process is part of the evolution of LifeStrategy funds as we look to make the inner complexities more efficient. If a client's portfolio is made up of individual funds, however, the onus is on the adviser to manually rebalance portfolios on behalf of clients.
Outwardly simple, inwardly complex
Investing in a single multi-asset fund is not necessarily basic. In the case of our LifeStrategy funds, their outward simplicity is intentional – we handle the inner complexities and difficult decisions on behalf of clients, which is part of their value as an all-in-one investment solution.
We believe that delivering value to investors isn't just about cost, it's about providing high-quality investment solutions that help investors reach their financial goals – of which low costs are an important element. All Vanguard funds follow the four principles for investment success but none more so than our LifeStrategy funds.
1 Vanguard, 31 January 2021.
2 Plagge, Walker, Hon and Corlett-Roy, 2021. "The case for low-cost index-fund investing". Vanguard.
3 Gary P. Brinson, L. Randolph Hood, and Gilbert L. Beebower, 1995. "Determinants of portfolio performance." Financial Analysts Journal 51(1):133–8. (Feature Articles, 1985–1994.)
*Vanguard Group, Inc. is owned by Vanguard's US-domiciled funds and ETFs. Those funds in turn are owned by their investors. While VGI's ownership structure can't be replicated outside of the US (due to regulatory restrictions), we believe that this mutual structure aligns Vanguard's interests with those of our investors globally.