Commentary by Maija Sankauskaite, senior research associate in Vanguard's Fixed Income Group.
Even before the Covid-19 crisis gripped markets, the European Central Bank (ECB) had been a major force in credit markets for some time. A year after the inception of its Asset Purchase Programme (APP) in 2015, which focused on public-sector securities, the ECB started buying corporate debt under its corporate sector purchase programme (CSPP) in 2016. Since then, its corporate bond purchasing has become one of the key driving forces of European credit market dynamics. The ECB is now estimated to own over 20% of the eligible corporate bond universe1 and remains a major player in the euro-denominated credit market, supporting a highly positive supply/demand dynamic. But has the market become reliant on this safety net? And what might happen if it were eventually removed?
A stabilising force
The ECB played a central role in stabilising the market as the Covid-19 pandemic struck in March 2020, supplementing the APP with its €750 billion pandemic emergency purchase programme (PEPP). The PEPP was later expanded to its current capacity of up to €1.85 trillion. The PEPP monthly purchases have ranged between €50-120 billion a month since April last year, which adds to the €20-30 billion of bonds, including €5-6 billion of corporate bonds, the ECB has been buying under the APP each month. The central bank has essentially been acting as a backstop bidder for bonds, supporting market liquidity and allowing companies to raise money in the market. This large-scale absorption of bond supply contributed to higher bond prices and tighter spread levels. Given the rapidly deteriorating economic conditions and exceptional uncertainty at the time, it's reasonable to surmise that the strong credit rally we witnessed throughout the second quarter of 2020 was largely fuelled by this central bank assistance.
Pan European aggregate corporate index (option-adjusted spread)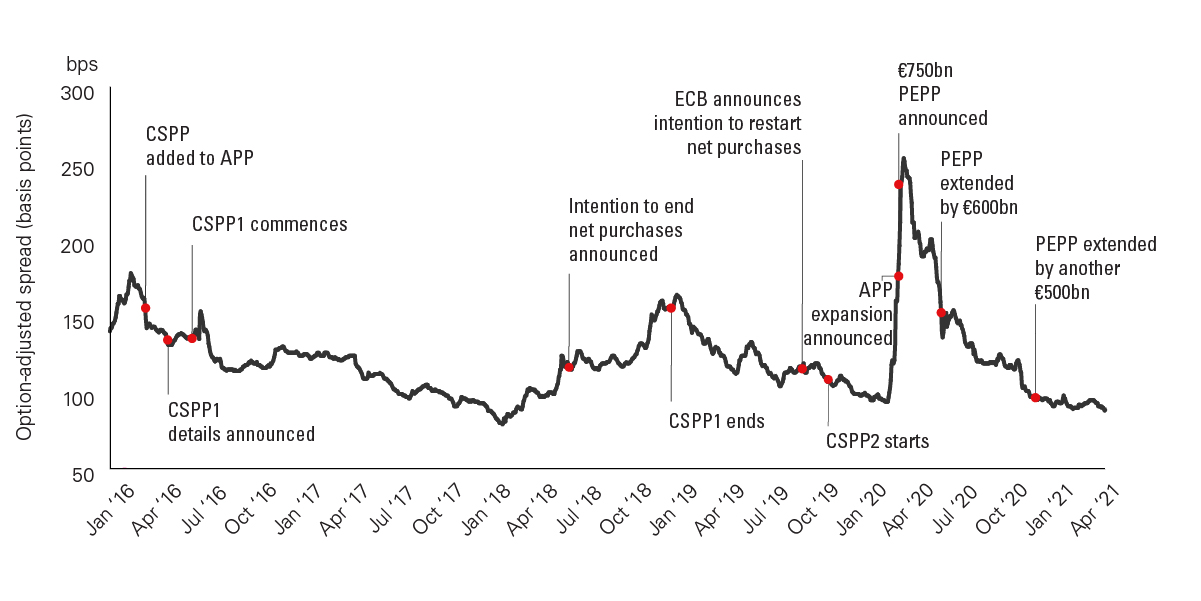 Source: Bloomberg, ECB, as at 20 April 2021.
Tapering off the table for now
During the early months of 2021, many investors harboured concerns over a potential "taper tantrum" - that is, a sell-off in core government bonds in anticipation of tighter monetary policy. In response, central banks—not least the ECB—rushed to reassure the markets. The Federal Reserve (Fed) maintained its course for both rates and asset purchases and hinted that it would not alter its trajectory any time soon, while the Bank of England (BoE) also opted to leave its policy unchanged. At the same time, neither the Fed nor the BoE pushed back against the recent government bond sell-off, both seeming to view the spike in bond yields as a natural by-product of improving macroeconomic prospects. In contrast, in March the ECB clearly signalled its readiness to counter significant rises in bond yields and tightening of financing conditions, committing to an accelerated pace of PEPP purchases over the following quarter.
This aligns with our view that the ECB will be particularly cautious about tapering its QE this time round. When the central bank announced the end of its first CSPP in 2018, it led to a significant bond market sell-off. And as economic data continued to disappoint, the programme had to be reinstated in September 2019. Today we are not just dealing with lethargic growth and persistently low inflation; there are also the implications of the global pandemic to consider. The ECB will want to live up to its "whatever it takes"2 pledge and continue to be accommodative until the economic recovery in Europe is strongly under way. The vaccine roll-out in most of Europe is progressing slowly, despite gathering steam in recent weeks, obscuring the timing of full economic reopening. As a result, ECB QE will likely be here to stay throughout 2021, and beyond. Together with more muted bond issuance this year than in 2020, this provides a supportive supply/demand backdrop for the time being. The purchase programme also has the flexibility to support specific areas of the market—such as green bonds3—and can be dialled up or down to reflect the pace of the economic recovery and new issue supply.
EUR corporate primary issuance vs CSPP net purchases (in EUR billion)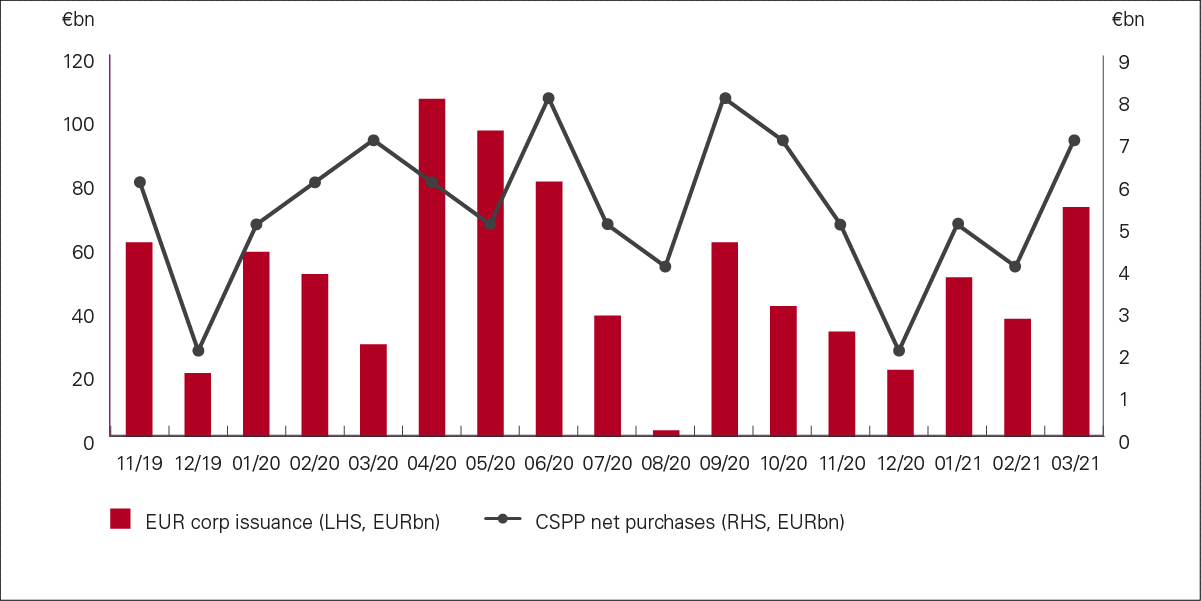 Source: Bloomberg, ECB, as at 31 March 2021.
When tapering comes, there's no need to panic
In terms of bond-market dynamics, when the market believes the ECB will start unwinding QE will have much more of an impact on bond prices than the central bank's actual timing of any phased withdrawal of support. The market will begin pricing in the anticipated tapering as soon as it is convinced the economic environment in Europe has strengthened sufficiently for the bond market to be weaned off central bank assistance.
As the vaccine roll-out progresses and pandemic restrictions are increasingly eased, economic growth will gain traction. The gradual wind-down of stimulus is inevitable. The historic performance of the euro corporate bond market since the CSPP launch suggests that on the back of QE withdrawal expectation, spreads will probably drift wider (leading to negative performance) and volatility will increase. Whenever economic growth and inflation pick up, it is also characteristic to see some migration of investor flows from credit to riskier asset classes—such as equities—which tend to provide better inflation protection and the potential for higher returns. This, combined with the withdrawal of the biggest bond purchaser in the market (the ECB), would put more pressure on supply/demand conditions in the credit market.
Opportunities will exist beyond QE
Since the commencement of CSPP1 in 2016, a pool of negative-yielding corporate bonds has emerged. The overwhelming support from the ECB has arguably provoked the "reach for yield" trade and, as a result, in some instances there is little price differentiation between stronger and weaker credits. As the market starts to anticipate the withdrawal of QE and volatility picks up, we are likely to see bond spread decompression, which offers more relative-value trade opportunities for active investors. This is where the benefits of thorough credit research and careful selection of securities with appropriate risk/return profiles will bear fruit.
Pan European aggregate corporate index by yield-to-worst (% share by market value)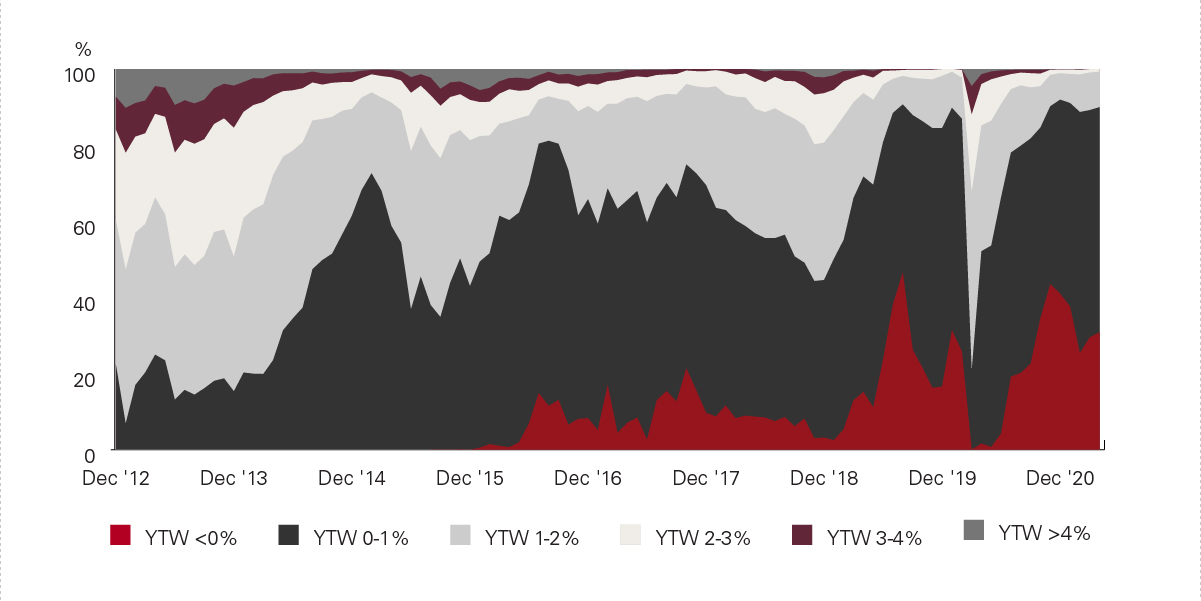 Source: Bloomberg Barclays Euro Aggregate: Corporates Index, base currency – USD, as at 19 April 2021.
QE will likely only stop in the euro area when economic growth is strong enough. Given the current pandemic situation in Europe, we believe the safety net is here to remain throughout the next year at least. We expect the eventual tapering to be gradual and therefore do not expect a major upset for the bond markets. While the winding-down of bond-purchase programmes will certainly lead to a less favourable supply/demand backdrop in the credit market, it will be accompanied by better prospects for credit fundamentals and brings with it enhanced selection opportunities. For example, companies in sectors like energy, airlines, non-food retail and lodging were among the hardest hit by the pandemic. QE or no QE, there is scope to analyse and identify the timing, pace and magnitude of their recovery - and benefit from potential price appreciation in selected bonds. In this environment, bonds should retain their capital-preserving and shock-absorbing qualities as part of a diversified portfolio.
1 Source: Bloomberg, ECB, as at 22 April 2021.
2 Source: ECB, 26 July 2012. Then-ECB President Mario Draghi commented at the Global Investment Conference in London: "Within our mandate, the ECB is ready to do whatever it takes to preserve the euro." https://www.ecb.europa.eu/press/key/date/2012/html/sp120726.en.html
3 Source: European Central Bank - Asset purchase programmes: https://www.ecb.europa.eu/mopo/implement/app/html/index.en.html