Commentary by Robert Miller, execution consultant at Vanguard Europe.
Every time you buy or sell a security, there is a cost. Some of these costs are easy to measure and are typically known before we trade – these are called explicit costs, and include tax and commissions. However, other costs are unknown – these are termed implicit costs, and they comprise market impact and opportunity costs, among others. Transaction cost analysis (TCA) allows us to examine the total cost of trading, and it can help to shape our future execution strategy.
Asset managers typically carry out TCA across a range of asset classes, including equities, fixed income and foreign exchange. However, each asset class has a different market structure and the quality of available data to analyse can vary. TCA is perhaps most advanced within the equity space, where much of the trading involves the use of algorithms. While fixed income execution analytics has been advancing in recent years as the data quality has improved, it is slightly different to—and arguably less advanced than—TCA in the equities space. This is because it's relatively difficult to analyse execution in fixed income given the large variety of bonds, as well as the over-the-counter nature of the market. These characteristics make it challenging to capture meaningful data to measure performance, and there is not a one-size-fits-all approach to TCA. Rather, there are numerous methods for different types of bond, be they corporate, government, investment-grade, high-yield, liquid, illiquid, or on- and off-the-run issuances, for example.
Understanding trends
Using TCA for fixed income helps us to understand some of the trends we see from our brokers. We then use a "feedback loop" to make sure we direct our trades to the most effective counterparties who offer a certain product, thus increasing price competition and reducing information leakage. As electronic execution in fixed income products has been growing in recent years, data plays an increasingly important part of our execution strategy. Our traders often use a method of trading called "auto-execution", typically on liquid securities in small trade sizes. We analyse the performance of our auto-execution on a regular basis in order to keep the trading parameters up-to-date, which means our trading strategy evolves with the ever-changing market environment.
The volatility we saw in 2020 caused major disruptions to the normal operations of the market. Unanticipated events have affected civilisation throughout human history, but the major difference between Covid-19 and other market downturns was the speed and ferocity of the crash. To put this in context, the following chart shows the shortest times to reach a bear market (defined as a 20% fall from its peak) in the S&P 500. Of all the bear markets since 1957, the 2020 decline has been the fastest, taking only 16 days to play out.
Fastest descent to an equity bear market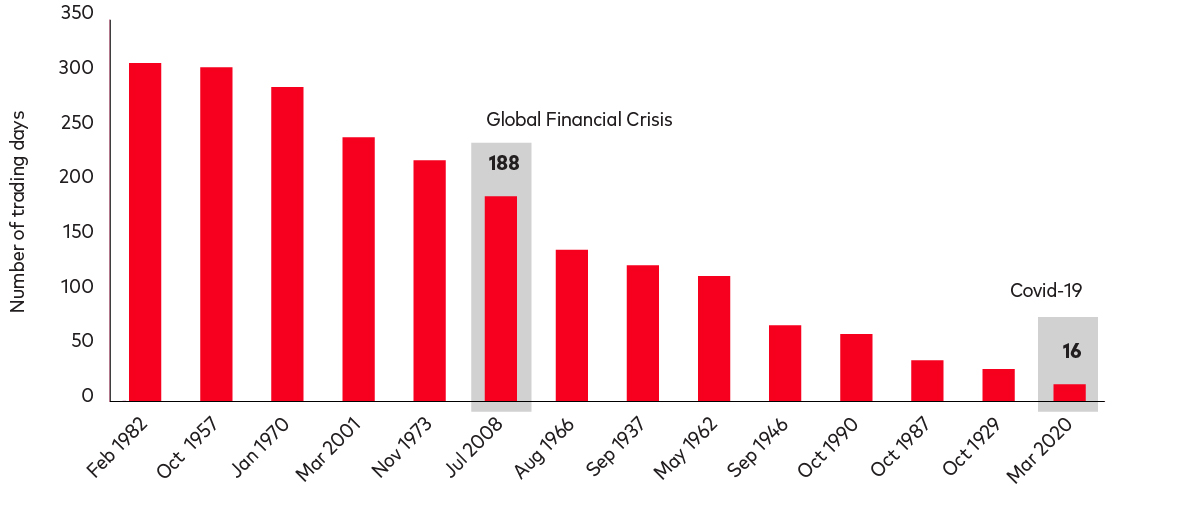 Source: Bloomberg and Vanguard. S&P 500 (in USD terms) used as proxy for equity market.
During the volatility we saw in March 2020, the equity markets saw a shift in dynamics. On the one hand, there was an increase in turnover. But on the other, many market makers took risk off the table, effectively decreasing the amount of liquidity available. There was also a general shift of execution strategy, as many investors moved away from trading at the market close towards the continuous market, as they became focused on reducing their risk as quickly as they could to avoid being on the wrong side of a volatility spike. TCA helps us to quickly adapt to these new market conditions and evolve our execution strategy to achieve best execution in this new environment.
Known unknowns
Understanding the risk of not being able to complete a trade at its benchmark price is paramount in volatile market conditions. "Gap risk" (that is, the risk that a stock's price will rise or fall dramatically between the market close and open) usually occurs when adverse news announcements are made overnight.
But during the peak of the pandemic-induced volatility, this news didn't have to be stock- or country-specific. We observed gap risk spike in Europe on new information about Covid-19 coming overnight from almost any region.
In order to keep tracking error low, the managers of index funds need to avoid exposure to sharp price swings in stocks overnight. With the help of TCA, we carefully monitored the movement of prices from the last print to the auction price to ensure that we stayed ahead of any increase in volatility trends. This enabled us to complete more orders, protecting our investors from overnight gap risk.
One trend that has accelerated as a result of Covid-19 is working from home, and asset management is no exception. Decentralisation of trading desks has accelerated the evolution of technological advancements - particularly in execution management systems (EMS), where there have been many efficiency savings. One example is the use of smart routing—also known as "one-click trading"—which can systematically detect trades and use predetermined routing methods and algorithmic parameters to help automate certain trades. At Vanguard, we combine smart routing with our existing "algo wheels" (which randomly allocate each trade to an algorithm, which measures its impact in the market using data analytics techniques) to enhance the automation and data analysis of our order flow.
Intelligently cutting costs
No matter what the asset class, TCA can play an important role in execution strategy in all trading environments. It allows us to learn from our past trading and share the results with our traders and broker partners in order to improve execution in the future. TCA brings science to the art of trading, and this has tangible consequences for our investors.
Trade execution can save clients millions of dollars a year and can dramatically improve the performance of both index and actively managed funds1. Vanguard's trading expertise and our use of technology to continually evolve our trading strategies are critical to achieving best execution on behalf of our investors, irrespective of the market environment.
1 Source: Vanguard.