Earlier this year, Vanguard announced that Sara Devereux will become Global Head of Vanguard Fixed Income Group (FIG), effective 1 July. Sara succeeds John Hollyer, who is stepping down after more than 30 years at Vanguard. In this interview, Sara, John and Vanguard Chief Investment Officer Greg Davis discuss the current state of fixed income markets, Sara's plans for FIG and John's extraordinary career at Vanguard.
What are the biggest challenges and opportunities for fixed income investors in the current environment?
Greg: The biggest challenge is that we've been in an environment of unbelievably low interest rates. Whether you are looking at money market funds, government bonds or even corporate bonds, yields are at historically low levels. That's made it more difficult for investors to meet their yield targets without taking on more risk.
Investors need to be realistic and make sure they understand that they will need to take on additional risk for higher yields. To meet their investment goals, their best bet may be to consider saving more or spending less.
Sara: Yields are low. When investors are choosing a manager, they should pay close attention to fees. Vanguard's low fees will allow them to keep more of their returns—every basis point counts in this environment1.
I would also say beware of funds that aren't true-to-label. In a low-return environment, some managers may employ leveraged or risky strategies that reach for yield. At Vanguard, we want our investors to trust that their funds play the role they expect. We don't deviate from the risk profiles of our mandates.
Finally, when yields are low and you're looking to enhance returns, it's a good time to consider active management. In a rising-rate environment, active skill can be critical. For investors who are inclined to seek alpha and are cognisant of the risk of underperformance, decisions about market timing and security selection can be left to the expertise of professional active management that employs strict investment risk controls like we have at Vanguard.
Given the current low-yield environment, are bonds still worth holding in portfolios?
Greg: Bonds absolutely should play a role for most investors because they will help moderate the level of risk in their portfolios. Bonds serve the key role of being a diversifier that can help reduce volatility. That function still holds up well in the current environment.
John: Not only are rates low in the current environment but so are spreads, or the extra reward you get from taking on more risk. That plays to Vanguard's fixed income active edge, where leveraging our low fees has given us the strategic flexibility to lower risk while still producing competitive returns for our clients. That's one of the things the team has been doing in recent months as low fees allow us to be more patient when there isn't a lot of reward for taking on extra risk.
What's your current perspective on rates and inflation? How does this influence Vanguard's active fixed income strategy?
Sara: We think rates will remain relatively range-bound in the near term with some room to move gradually higher as the US Federal Reserve (Fed) tapers its asset-purchase programme and interest-rate hikes come onto the investment horizon. Our base-case scenario is that inflation will be transitory and will be tracking back down from where it is currently.
Clearly, we are experiencing strong growth and recovery in 2021. Monetary policy continues to be easy and firmly centred around inflation and employment outcomes. We work closely with our Investment Strategy Group on monitoring inflation and employment. We're in a situation with the reopening from the pandemic where there are some temporary factors that have boosted inflation. But we believe the Fed will look through these factors as transitory and not feel pressure to raise rates in the near term.
The Fed is also looking for full employment before it starts tightening. US payrolls2 were weak in April and soft in May, so we're keeping an eye on that. Again, this may be transitory. Fiscal subsidies and childcare constraints could be roadblocks preventing people from going back to work, and these factors may subside by the autumn.
On balance, we believe that the Fed will not raise the policy rate until 2023 and that a gradual tapering of asset purchases will commence in early 2022. Risk assets have been supported by easy central bank policies, and valuations are very tight. For that reason, we have reduced credit overweights and increased "dry powder" that we can deploy at more attractive valuations3.
As John mentioned, our active edge enables that—Vanguard's low fees give us the breathing room to take risk down when investors aren't getting sufficiently rewarded.
You've come from the active fixed income business. Is this a signal that this is a business that Vanguard will seek to grow?
Sara: We have strong teams and winning business strategies across index, ETFs, money market funds and our actively managed bond funds, and there are compelling growth opportunities in all those areas.
With respect to active management, it surprises investors sometimes when they hear how large an active player Vanguard is; we have more than $1 trillion in active fixed income assets under management4. We believe in an actively managed approach because it gives us the flexibility to respond to changing market conditions and opportunities for investors who seek to outperform. We've worked on honing our active edge, focusing on compounding sources of alpha and smart risk-taking that's strengthened by our modest fees. This puts us in a unique position to deliver value to active investors.
Why was Sara selected for this position, and what is Vanguard's approach to succession planning and transitions such as this?
Greg: The role of Global Head of Fixed Income covers everything from active management to money markets to indexing to stable value. It also involves sitting on our Global Investment Committee, where we make decisions on new product implementation and the structure of these products.
Having a leader who understands the various segments of the market but also drives results are key aspects of the role. We have seen these qualities in Sara, and they are key reasons why we selected her for this role.
John: The role is ultimately about leading a team of nearly 200 investment professionals around the globe. As Greg pointed out, it's a very senior-level role with a tremendous amount of impact.
One of Sara's great strengths is her track record of stepping into new leadership roles, determining the formula for success and leading teams to do it. That gives me great confidence in her. A hallmark of Vanguard is our care in succession planning, and Sara is a great example of this.
Figure 1. Vanguard Fixed Income Group: A deep and experienced team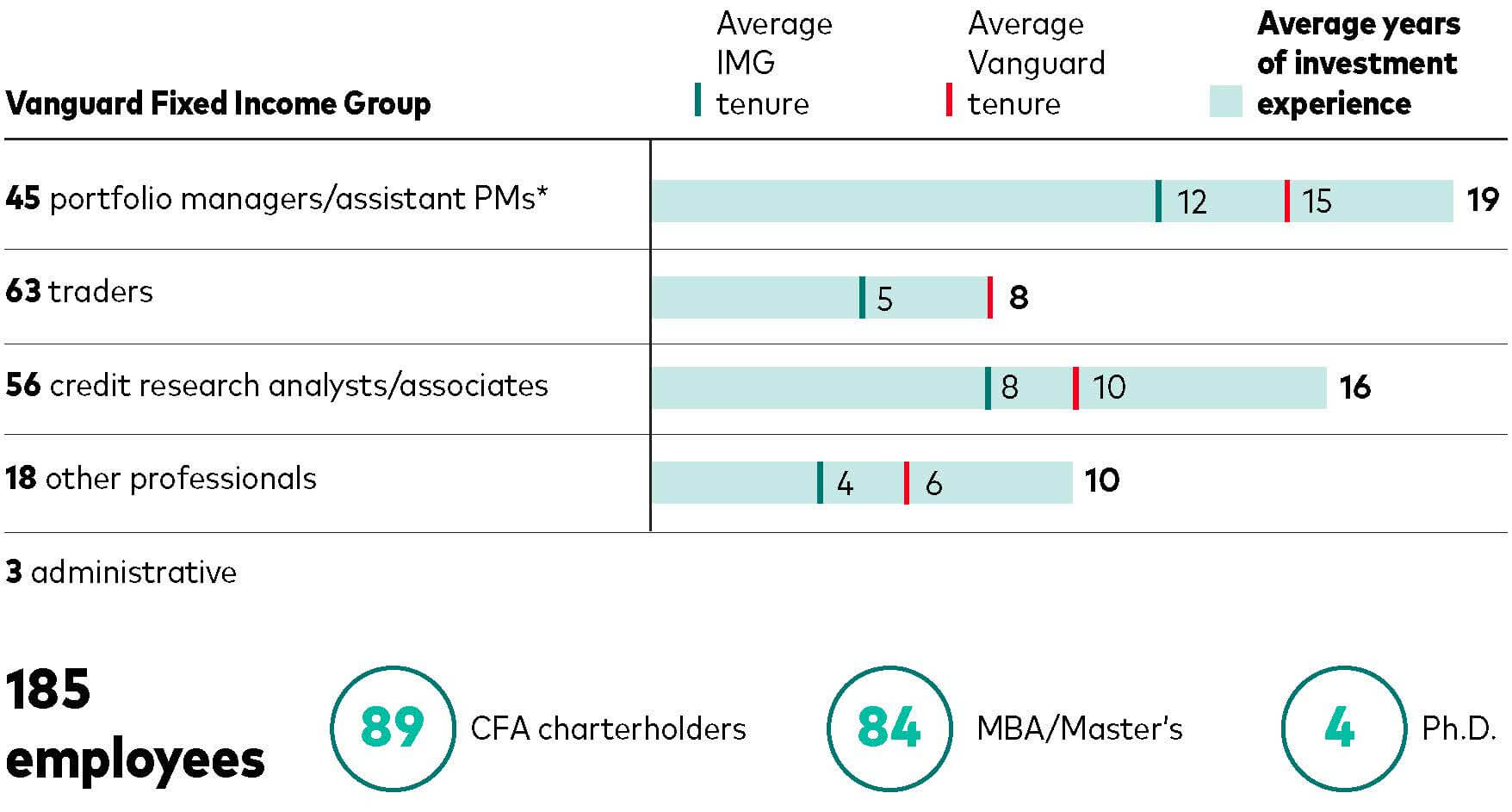 Note: IMG refers to Vanguard Investment Management Group.
*Includes FIG Management Team
Source: Vanguard, as of 31 March 2021.
You are the first woman to lead a major money management group at Vanguard. Can you tell us what you think about that?
Sara: I would first say that I am honoured to be part of such a great team. I am also excited to take on new responsibilities. Greg has said that in portfolio management, diversification is a well-known strategy for success, and the same concept can be applied in the context of an executive team. So, I am delighted to be part of an organisation that believes diverse groups make better decisions and that diversity among executives can strengthen a team's range of perspectives.
On a personal level, I hope to serve as a role model for young women who are interested in maths and finance.
John, can you talk about some of the things you've worked on and have overseen in your role as head of FIG that have helped Vanguard deliver exceptional results for investors?
John: A few things come to mind. First and foremost has been our plan to build out FIG's capabilities by identifying, attracting and developing talented fixed income leaders. This initiative was started by Greg when he led fixed income. It focused first on emerging markets, which we've built out very successfully, and high-yield investment capabilities, which is nearing completion. We've also invested in mortgage-backed securities capabilities and global rates, both of which have added value. Some talented people have joined our team, and we continue to expand. So that talent-building capability has been very important to us.
We've also enhanced our decision-making processes through strong risk controls. We leverage technology that helps decision-making across the index, active, money market and credit research teams. A good example of this is our initiative to strengthen our alignment between our indexing and ETF strategies.
Greg, what are John's most significant contributions to FIG not only in his current role but throughout his career?
Greg: It's hard to quantify all John's contributions over his more than 30-year career at Vanguard. As we were starting to build out our risk management group, John led that effort. He has grown it from a team of one to now more than 100 individuals around the world. He was very influential in establishing and growing this important group, and now we have a world-class risk management organisation. This has helped our funds perform better and control our risks.
In 2017, John was asked to lead FIG, and we couldn't think of a better leader to move the group forward given his experience, expertise in markets and strong leadership capabilities. Over the past three years, more than 80% of our funds managed by FIG have outperformed their peer group averages5. So under John's leadership, the performance of FIG-managed funds has been superb. He is a great example of someone who is leaving the organisation in a better place, and he's had a tremendously positive impact for our clients.
How has Vanguard's approach to fixed income changed over the years both in terms of portfolio management and process?
Greg: There's been a constant refinement of our investment process. This includes how we think about the areas where we can add value to the process, including how we think about risk. As we've said, a big part of the equation is attracting and developing talent as well as supplementing that talent where we don't have the internal capabilities.
John: One of the greatest transformations over the years has been in our indexing and ETF businesses. If you look at the scale, breadth and complexity of these businesses, it's staggering. The team has leveraged technology and processes to scale their great investment thinking. Because bond indexing samples a benchmark rather than completely replicating it, there are a lot of trade-offs to make when tracking an index. It's remarkable how this group has scaled its processes globally, especially through technology.
How do you see FIG and the role of the Head of FIG evolving so that we can continue to produce strong results for investors?
Greg: Our main goal is to make sure we are strengthening the bench by investing in and developing talent while supplementing that with great, experienced hires from the outside. We believe this process is ultimately going to produce strong results.
We also want to ensure we have the latest and best technology in place. We're being innovative in terms of the strategies we're implementing based on research and quantitative capabilities. We're making sure we're creating an inclusive environment where everybody can truly succeed at what they do and produce the best results for our clients.
Sara Devereux has an undergraduate degree in maths from the University of North Carolina at Chapel Hill and an M.B.A. from the Wharton School of the University of Pennsylvania. In between, she qualified as an actuary. After receiving her M.B.A., she joined Goldman Sachs and was there for more than 20 years. She started as a trader in agency mortgage-backed securities, ultimately becoming a partner in the structured products group.
As Global Head of Rates, Sara manages a team of more than 30 investment professionals across the globe, who oversee all active rate strategies in taxable credits and multi-sector funds. This includes a range of global government bonds, inflation-protected securities, and agency mortgage-backed securities, as well as Vanguard's money markets business.
They also oversee foreign exchange and derivatives trading activities. These teams hedge currency risk for our active portfolios as well as our index funds, and in some cases, our equity funds. Sara is a member of the senior investment committee that produces the long-term investment outlook and oversees hiring and the governance of our investment process.
Follow Sara on social media

Follow Greg on social media

1 Vanguard US funds' average asset-weighted expense ratio is 0.09% compared with 0.54% for the industry, excluding Vanguard. Sources: Vanguard and Morningstar, a Thomson Reuters company. Data as of 31 December 2020.
2 A measure of the US employment situation.
3 The term dry powder refers to excess risk capacity.
4 As of 31 March 2021.
5 For the one-year period ended 31 March 2021, 32 of 118 money market and bond funds managed by Vanguard Fixed Income Group outperformed their peer group averages. For the three-year period ended 31 March 2021, 96 of 114 money market and bond funds managed by Vanguard Fixed Income Group outperformed their peer group averages. For the five-year period ended 31 March 2021, 82 of 111 money market and bond funds managed by Vanguard Fixed Income Group outperformed their peer group averages. For the 10-year period ended 31 March 2021, 70 of 85 money market and bond funds managed by Vanguard Fixed Income Group outperformed their peer group averages. Only funds with a minimum one-, three-, five- or ten-year history, respectively, were included in the comparison. (Source: Lipper, a Thomson Reuters Company.) Note that the competitive performance data shown represent past performance, which is not a guarantee of future results, and that all investments are subject to risks. For the most recent performance, visit our website at www.vanguard.com/performance.