By Roxane Spitznagel, economist, Vanguard Europe
Inflation is rearing its ugly head again, not just in the UK but elsewhere in the world too, fuelled by high energy prices and growing demand as more businesses and consumers break free from their pandemic chains and supply struggles to keep up.
We don't foresee a return to the 1970s, when UK inflation hit unprecedented heights and spurred ever-growing wage demands, but we do expect inflation will continue rising into next year.
Most investors will probably be aware that inflation has the capacity to gnaw away at their standard of living and some may fear it could be bad for their investments – more so if it is left unchecked, causing central banks to push up interest rates and dampen down economic growth.
So here are five key reasons investors should stay the course despite resurgent inflation:
1) We expect inflation to fall back next year
Data last week showed UK consumer prices rose in October at their fastest rate in nearly ten years. Inflation1 came in at 4.2% compared with a year earlier, driven higher in recent months by increased demand as the economy has reopened and by a sharp rise in energy prices. We expect it to continue rising as we enter 2022 but expect it to peak slightly below 5% in the first half of next year. However, as the effects of energy price rises unwind and supply bottlenecks ease, we expect inflation to fall below 3% by the end of 2022, as the chart below shows.
Wage growth is currently running at elevated levels, though the recent ending of the furlough scheme should help ease some of the current pressures. Nevertheless, the labour market is likely to remain strong. As such, we expect the Bank of England to raise interest rates by 0.15 percentage points in December 2021 to 0.25% and by another quarter point to 0.5% at a subsequent meeting, which will provide a signal to investors that it is serious about fighting inflation without doing significant damage to the economy. If the next round of labour market data disappoints, we expect the first rate rise to be delayed to February.
Where we think inflation is heading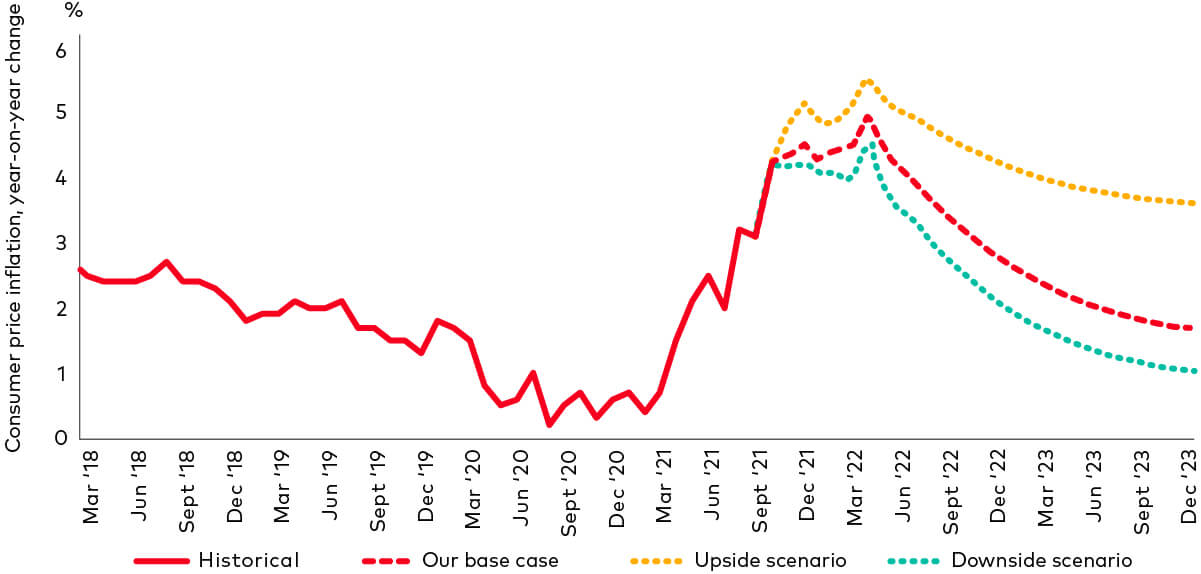 Source: Bloomberg, Vanguard forecasts. As of 17 November 2021.
2) Inflation is a reason to invest
Rising inflation can reinforce the rationale for investing in the first place. It may be useful to remind clients that are nervous about rising inflation expectations that a primary reason that investors allocate to capital markets is to avoid the corrosive effects of inflation over the long term. This is true even when inflation is low, as it has been for a long time, because interest rates have been lower still. For example, if consumer prices are rising at 2% a year and interest rates are, say, at 1%, savings are effectively losing 1% of their buying power each year.
Inflation can also be an argument for broad diversification across sectors. Some companies and sectors such as energy companies have inflation-hedging strengths because they are able to transfer their higher costs to consumers (energy companies, for example) or because demand for their products or services is relatively static (for example, drugs or tobacco manufacturers). But it is not always obvious which other factors might impact stock prices during periods of rising inflation, so it is important to hold a well-diversified portfolio of companies across regions and sectors.
3) Keep faith with fixed income
Many investors are concerned about the impact of inflation on their fixed income holdings, which is understandable in the low-yield and low-return environment. At Vanguard, we don't believe government bonds are there primarily to drive investment returns – that's more the job of equities. Instead, the role of bonds in an investment portfolio is to act as shock absorbers, or 'diversifiers'. Our analysis of the relationship between bonds and equities over the past 20 years found that the longer equity markets decline, the more likely bonds will play a stabilising role in a portfolio2, which is why long-term investors should not abandon the principles of good asset allocation.
4) A reason to invest in bonds (Part 2)
Although the inverse relationship between equities and bonds doesn't hold up each and every day, over the long term it does enough to act as a steadying influence whenever equity markets aren't performing well. Our experts have analysed whether the ongoing rise in inflation being seen globally might alter the relationship between bonds and shares, looking in detail over several decades. Their conclusion is that it would take considerably more inflation than we are currently expecting to do so. In short, more reason for your clients to keep the faith!
5) Inflation and the importance of maintaining discipline
What else can investors do to protect their portfolios from inflation? In the past, many have often looked at traditional inflation hedges such as gold or commodities. They may have also been tempted to increase their exposure to shares relative to bonds. The problem with both approaches, though, is that it can add risk to their portfolios. And that, in turn, might not align with their goals. All of which provides an apt reminder as to why investors should remember to tune out the noise – including the inflation noise – and trust the process by keeping their discipline, in line with Vanguard's four investment principles.
Griffin Tory also contributed to this article.
1 'Inflation' here is deemed to be what economists call 'headline' inflation rather than 'core' inflation, which strips out relatively volatile food and energy prices and was shown to have risen by 3.4% year-on-year in October.
2 Giulio Renzi-Ricci and Lucas Baynes, Hedging equity downside risk with bonds in the low-yield environment, January 2021, Vanguard Research