By Shaan Raithatha, economist, Vanguard UK
The inflation outlook in the UK has come into sharper focus in recent weeks due to a series of supply shocks. The main driver has been the very sharp rise in wholesale gas prices, which is increasing the costs of production for many businesses and will raise living costs for households. Slightly higher food prices and the petrol crisis are also contributing.
These developments have forced us to upgrade our inflation forecast for the UK. We now expect inflation to peak at a higher level – at above 4.5% year-on-year – and for the shock to persist for longer than previously expected.
As the chart below shows, these elevated rates are likely to continue until the middle of next year.
UK inflation will accelerate further in the coming months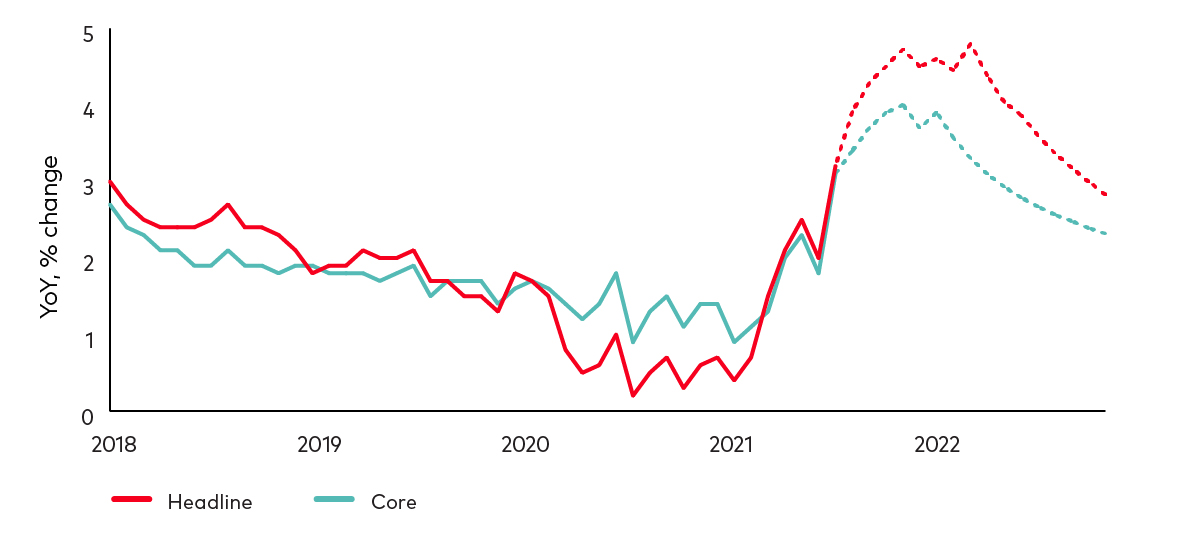 Source: Bloomberg. Headline refers to the UK CPI index. Core refers to the UK CPI index excluding energy and food prices.
Bank of England concerns
Several members of the Bank of England's Monetary Policy Committee, which decides on interest rates, have raised their concerns about the outlook for inflation in recent weeks. This includes the bank's governor, Andrew Bailey, and its chief economist, Huw Pill1,2.
Given the persistence of the inflation shock, there is a risk this will now start to feed into inflation expectations, in the absence of any action taken by the Bank of England.
The second chart below shows how both UK vacancies and underlying wage pressures have been intensifying consistently over the course of the year. We've already seen workers ask for higher-than-usual salary increases given labour shortages in certain sectors and the risk is that employees start to do this more broadly to compensate them for the rising cost of living.
Both job vacancies and underlying wages have been rising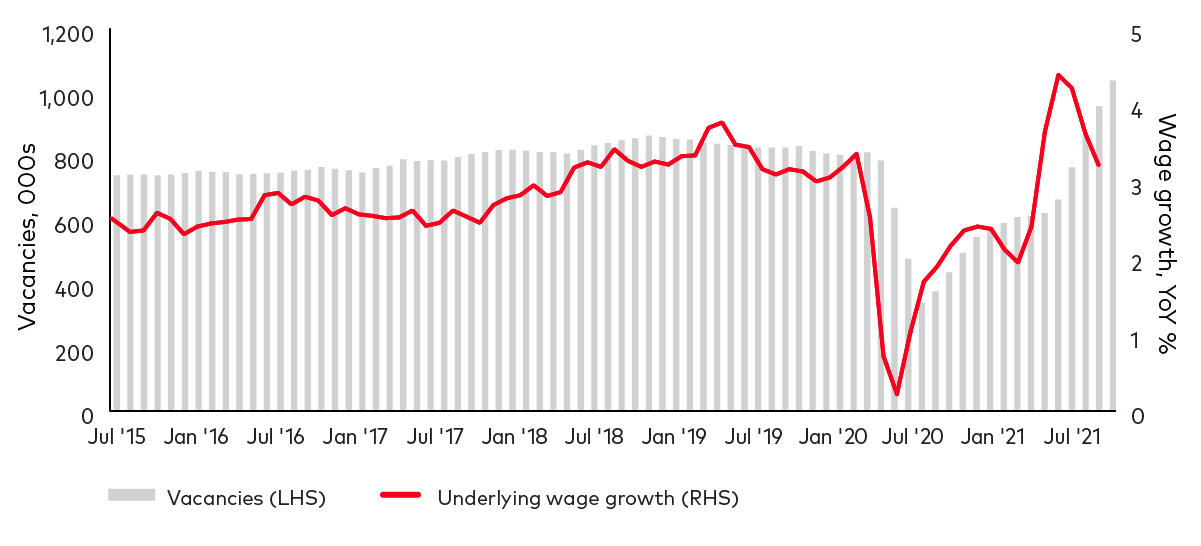 Source: Bloomberg, HMRC
But growth is still a concern
However, the Bank of England must weigh higher inflation against a backdrop of slowing economic growth momentum that will be made worse in the coming months as rising energy prices and higher taxes squeeze consumer disposable incomes and supply-chain disruptions constrain output.
There is also a risk that the labour market will soften following the end of the furlough scheme, which would help ease labour shortages and wage pressures in certain sectors.
Weighing all these factors together, we judge that the Bank of England will begin raising interest rates in February, bringing this forward from our previous call for a hike in the third quarter of next year. If the upcoming data shows the labour market and general activity is holding up well, the bank may even be tempted to move as early as December of this year and follow this up with another increase in February.
We still believe, though, that monetary policy will tighten only gradually over the medium term. The process of interest rate normalisation looks set to begin sooner rather than later but the Bank of England will remain averse to raising interest rates too quickly, as it would risk constraining an already slowing economy that is still recovering from the effects of the pandemic.
Also, as we previously flagged, the bar for raising the floor for interest rates significantly above 0.5% is now higher as quantitative easing will begin unwinding.
A continuingly low interest-rate environment is one of factors contributing to Vanguard's view that stock and bond market returns will be relatively subdued over the next decade.
1 The hard yards - speech by Andrew Bailey, Bank of England, 27 September 2021.
2 Treasury Select Committee questionnaire for Huw Pill, 4 October 2021.