Commentary by Mark Fitzgerald, Head of Product Specialism, Product Management.
Of the many choices confronting index investors, one of the primary considerations they face is which benchmark to track. In this respect, allocators are spoilt for choice. Research suggests that there were more than three million indexes available worldwide by October 20201, ranging from broad, total-market indexes to narrower exposures, such as those focused on specific sectors, themes or sub-asset classes.
Some might view this variety as being in investors' best interests, allowing them to find an index to match almost any investment goal, preference or whim imaginable. But can this plethora of benchmark options also lead to confusion, distracting investors from the basic tenets of what makes a good index?
Getting your timing right
2020 will be remembered by many as the year that the world was first gripped by the Covid-19 pandemic. For some investors, it was also a year marked by the strong outperformance of a handful of investment themes. As the pandemic accelerated trends such as work automation and the digitisation of economies, certain sub-sectors experienced turbo-charged returns relative to the broader market in 2020.
As the chart below on the left shows, the performance of the five best-performing thematic ETFs included such Covid-19 winners as video gaming, cloud computing and clean energy, which all outperformed the total market by some margin. The question is, are thematic indexes the best way to capture exposure to these trends?
Attempting to target with precision the areas of the economy which will outperform over a given period might seem an appealing proposition. But the evidence suggests that a key challenge to achieving successful outcomes with thematic investments is the difficulty of timing. While some themes might do well one year, what can investors glean from that about the future?
Fast-forward nearly half a year and—with one exception—all of 2020's top-five thematic ETFs lagged the broader market in the year-to-date to June 2021, as the chart on the right illustrates.
The top-performing thematic ETFs in 2020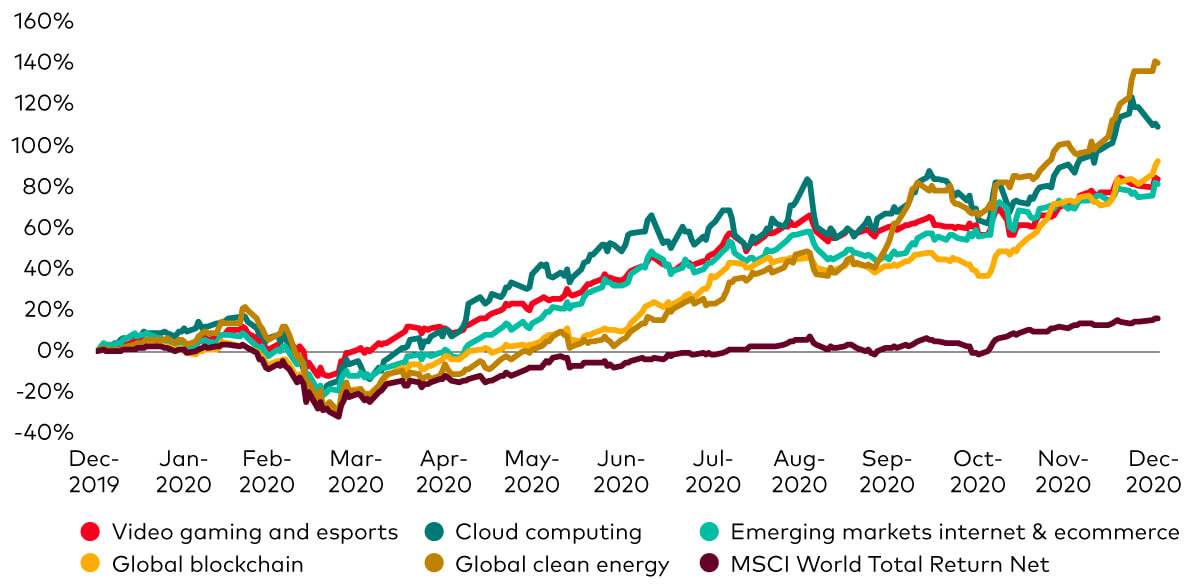 The same ETFs in the YTD to June 2021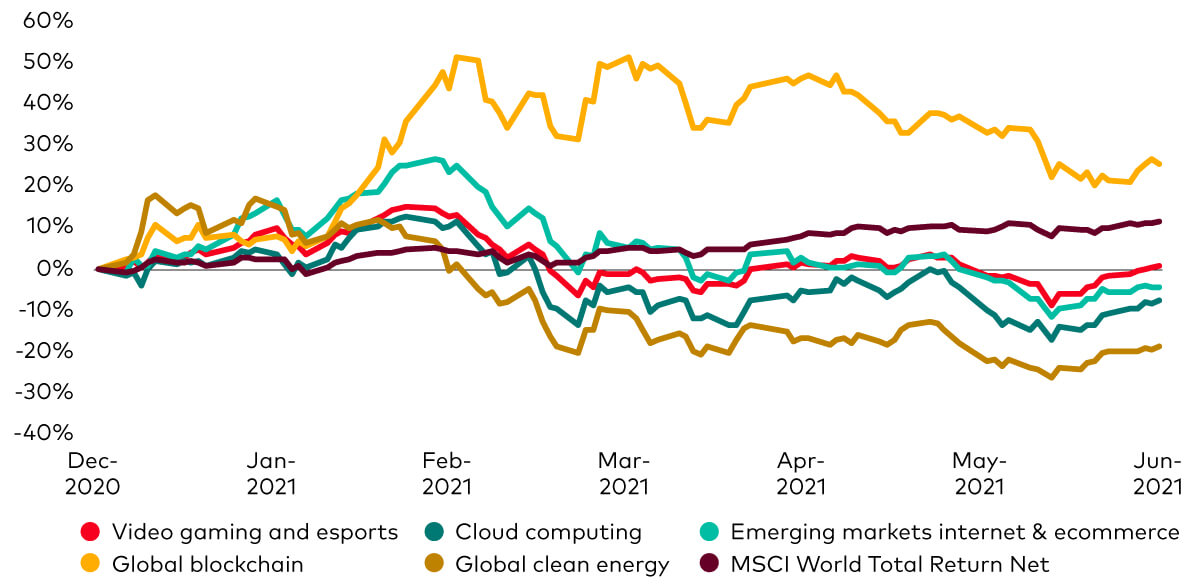 Past performance is not a reliable indicator of future results.
Source: Bloomberg. Data as at June 2021. Cumulative performance in USD from 31 December 2019 to 28 May 2021. Performance of the ETFs based on the daily net asset value which takes into account all ETF internal costs.
Investors also need to consider the due diligence implications. As one might expect, there can be a wide variation in rules and methodologies between indexes catering to different themes. To succeed with thematic investing, not only do investors have to get their timing right - they also need to parse through the different index construction methodologies available, before then selecting a product based on their chosen index. But there is a more effective way to access the best-performing themes over longer periods.
Vanguard founder Jack Bogle's advice of "Don't look for the needle in the haystack - just buy the haystack," might seem crude to some investors. But as the chart below shows, broadly diversified indexes give investors exposure to evolving sector weights proportional to their growth (or shrinkage) in the universe, without requiring them to accurately time these trends or familiarise themselves with numerous theme-specific construction methodologies.
Evolution of global sector weights - FTSE Global All Cap Index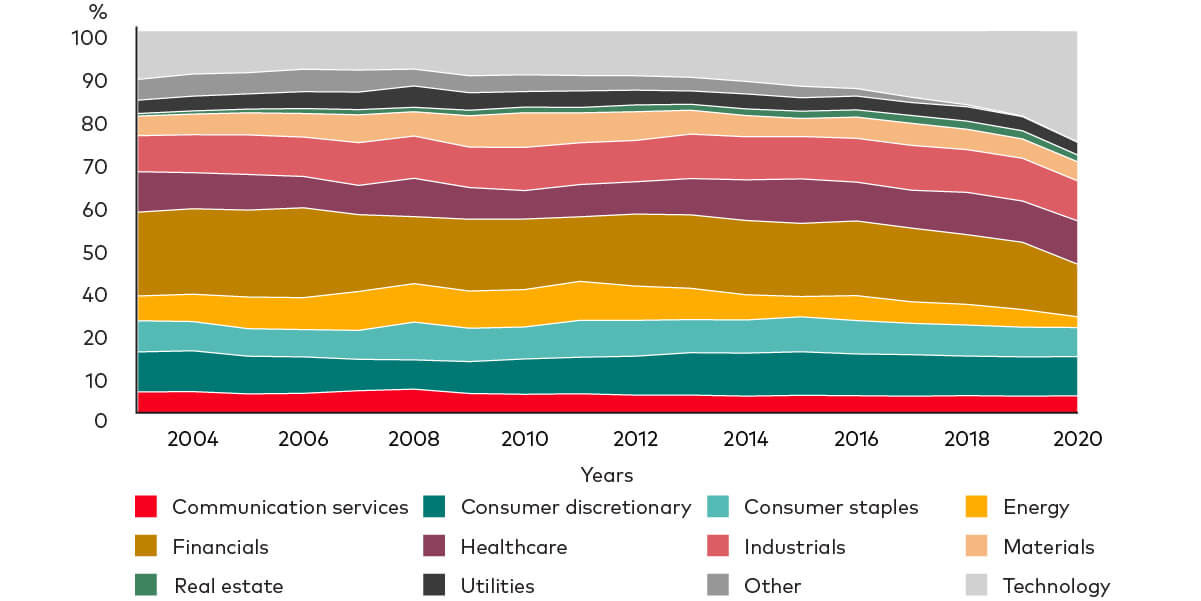 Past performance is not a reliable indicator of future returns.
Source: Factset, Vanguard Calculations. Note: 'Technology' sector here includes all 'information technology' companies as defined by the Global Industry Classification Standard (GICS) plus Amazon, Alibaba, Baidu, Facebook, Netflix, Tencent, Tesla, and Sony.
Narrow indexes can be too popular for their own good
Unfortunately, research suggests that the largest cash flows tend to come into thematic products only after they have had their best period of performance2. And when investor flows chase performance in thematic investments, this can cause problems - especially when the theme represents a very narrow universe of securities.
Themed benchmarks can exist without incident for several years based on rules and methodologies that were not designed to handle large flows into the market. If new products emerge based on these indexes and channel unprecedented inflows into the universe, it can inundate the market, leading to disorder for investors.
Some thematic indexes have even had to be rebalanced after strong performance triggered large inflows which overwhelmed the liquidity of the small pool of underlying securities, some of which initially numbered just several dozen stocks. Rebalancings in response to concentration challenges expose investors to a number of risks, not least that they often end up holding a dramatically different portfolio to the one they held before the index reconstitution. Faced with a flood of new money into a given product or exposure, some index providers have had to adjust the methodology thresholds of certain thematic indexes in order to increase the number of securities, thus diluting the intended aim of the index. Investors can also end up bearing the costs of index reconstitutions instigated in response to large inflows.
This highlights why it's important for investors to think carefully about the what they are seeking from an index.
What makes a good index?
Whichever benchmark an investor is looking to track, index investing can help investors meet their objectives by delivering a number of benefits. These include broad diversification, low costs and relative predictability of returns and volatility, among others. However, among the millions of indexes available, some deliver on these benefits better than others. We believe there are certain characteristics that all good indexes have in common, no matter which exposure an investor is seeking.
Firstly, they should be diversified. Diversifying investments can help investors to avoid exposure to unnecessary risks, and is connected to the concept of balance - which is one of Vanguard's four principles for investing success.
They should also be liquid, offering exposure to a market in which it is not prohibitively difficult or costly to execute trades in order to deliver the expected return. And as we have already seen, some narrower benchmarks which require emergency rebalancing to accommodate large investor flows generally don't offer the liquidity investors should expect in an index.
Good indexes should offer investors transparency, too, with clear rules and methodologies and a predictable and stable process for handling index changes. Here it helps to work with an index provider you can trust. Vanguard only partners with reliable, globally recognised index providers who are aligned with our philosophy and offer the high-quality, objective, rules-based indexes that we believe give our investors the best chance for investment success.
Multiple groups at Vanguard help to ensure that our relationships with index providers offer value to our clients. For example, our portfolio management and trading teams work closely with index providers to ensure that they have the necessary data needed to manage the funds effectively and efficiently.
Index best practices
There are a number of other best practices that can help an index more accurately reflect the market it seeks to track. For example, adjusting for float—so the index represents the investable opportunity set available in the marketplace—and taking a flexible approach to market capitalisation—in order to take into account the relative size of companies—are both critical to producing an optimal benchmark, in our view.
We believe that products tracking indexes built in this way give investors the best chance to meet their objectives. When you are next reviewing the millions of indexes available to investors, consider how they stand up against these criteria.
1 Source: Index Industry Association (IIA), as at 28 October 2020. The fourth Annual IIA Benchmark Survey showed that the overall number of indexes climbed by approximately three percent to 3.05 million. http://www.indexindustry.org/
2 Source: J.P. Morgan, 2021 J.P. Morgan Global ETF Handbook, June 2021.