Commentary by Mark Fitzgerald, head of product specialism, Product Management, and Ida Svensen, investment product specialist.
Environmental, social and governance (ESG) investing has experienced a boom in popularity in recent years1. ESG funds can fulfill a number of investor needs, whether it's to satisfy a value preference—for example, by divesting from companies with business activities that disagree with an investor's values—effect meaningful change, meet regulatory requirements or improve risk-adjusted returns.
But ESG investing can, by nature, be a subjective field. So whatever their reasons for investing in ESG, it's important for investors to understand the ratings and methodologies behind the product they're investing in.
The growth in popularity of ESG investing is reflected in the wide choice of ESG products available to investors, which vary by a number of characteristics, including the screening methodology they adopt. This can cause some confusion, because even among so-called 'ESG-screened' products, which account for the majority of ESG funds, there are in fact many different approaches to portfolio construction.
Which ESG question are you answering?
Here it is helpful to know what type of question an ESG index is primarily intended to address. Is it, "What do companies do?", or rather, "How do companies do what they do?"
Finding an answer to the first question is fairly straightforward, as it is largely based on objective and quantifiable information, such as revenue exposure. For example, an ESG index might remove specific sectors—including fossil fuels, tobacco or controversial weapons—based on data showing how much revenue a company derives from those sectors. These indices will generally use an exclusionary screening methodology and are typically market-cap weighted.
The second question, however, is more complicated. This is more about how a company conducts its business than whether it is in a particular sector. Indices that are intended to address this second question tend to use a combination of exclusionary and inclusionary screening (where exposure is 'tilted' based on ESG company ratings), and have overweight allocations to the securities which are considered "best in class" according to their methodology. These usually combine market-cap with ESG score weightings.
Indices that employ inclusionary screening as part of their methodology typically use the ESG scores provided by ESG research providers to determine which stocks to include, and this can involve a high degree of subjectivity. These scores can be based on a range of areas, such as human and labour rights and anti-corruption, as well as key performance indicators on individual environmental, social or governance factors.
Regardless of the kind of ESG index investors choose, they need to be aware that the underlying holdings of the various products available can vary widely, not least in terms of the diversification they offer. For example, the number of stocks in ESG indices representing the global equity universe can range from nearly 5,000 to fewer than 400, depending on the index provider and the criteria used2.
They also diverge in their weightings between different countries and sectors. And even the holdings of some of the largest individual constituents in global equity markets can differ significantly from index to index, depending on the ESG methodology used.
ESG ratings providers don't always agree
It's not just differences in index screening methodologies that can cause confusion. Dispersion in the ESG ratings of individual companies themselves adds another dimension of subjectivity to ESG investing.
Research from the MIT Sloan School of Management3 looked at the correlations and dispersion amongst ESG company ratings from the main ESG ratings providers and concluded that ESG company score correlations between providers are weak to moderate, ranging from 0.38 up to 0.71, with an average correlation of around 0.54.
Aggregate ESG company rating correlations between providers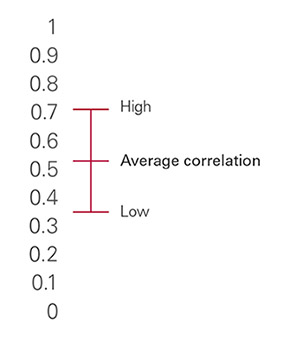 Source: Vanguard, based on data from Truvalue Labs, MIT Sloan School of Management. "Aggregate Confusion: The Divergence of ESG Ratings", Florian Berg, Julian F. Koelbel and Roberto Rigobon. August 2019.
For some companies, there was found to be a low degree of dispersion between the ratings or scores. In other words, for these companies, the ESG raters broadly agree on an ESG score.
But for other companies, there was more disagreement between ESG ratings providers. Indeed, some companies scored negatively with one ESG rater while scoring positively with another. At an index level, this can translate to the same company being excluded from one benchmark on ESG grounds while featuring in the top-10 holdings of another ESG index using a different ratings provider and methodology.
It's not surprising that there is sometimes disagreement between ESG ratings providers. After all, the rating process is complicated and can involve more than 60 main ESG categories – for example, some of the categories used by the Sustainability Accounting Standards Board include data security, employee health and safety, greenhouse gas emissions and waste and hazardous materials management4. Beneath these categories, there are also hundreds of sub-category ESG factors which the agencies use to rate a given category; however, ratings providers and academics differ on what should be measured, how data should be captured and the relative weights to assign to each indicator.
What's more, ESG company data is neither standardised nor mandatory and largely relies on self-reporting by companies. For companies that don't self-report ESG data, options to ESG raters include giving the company a zero rating, using a peer group average or determining a score using a statistical model. Some ratings providers don't even fully explain how a score was determined.
Ratings are further complicated by ESG raters taking subjective decisions on the relative merits—and therefore the weightings—of the E, S and G factors themselves and also in relation to issues such as controversies.
So where does this leave investors?
Understanding your ESG index
Given the inherent subjectivity around ESG ratings and methodologies, forming an aggregate ESG view of a company requires significant judgement.
The variation in ESG index screening methodologies illustrates just how important it is for investors to understand the rules of an ESG index, as the screening for ESG index construction often begins with sector definitions.
Careful due diligence is required. As part of this process, investors should seek to improve their understanding by asking key questions about the methodology: Which attributes are chosen and why? How is each attribute measured, and why? How are attributes weighted when determining an aggregate rating, and why?
The ESG products Vanguard offers investors in Europe only use an exclusionary screening methodology as we believe this is currently the most transparent and objective approach to ESG investing.
While we have chosen to focus on products that can rely on more standardised data, we have been encouraged to see that the quality of ESG data disclosed by companies or available from third parties is improving. We continue to assess developments in the industry and expect our line-up to evolve to meet investor needs, as it has over the last 20 years.
Most importantly, ESG investing should not mean deviating from sound investment principles. ESG is not a reason for investors to pay much higher fees, nor to be encouraged into high-risk strategies.
Focusing on keeping costs to a minimum, taking a long-term approach and being diversified apply just as much to ESG as they do to any other type of investment.
1 According to Global Sustainable Investment Alliance (GSIA), the global assets in ESG screened strategies more than doubled from $12.3 trillion in 2012 to $26.3 trillion in 2018.
2 Source: FTSE, MSCI. As at 30 September 2020, the FTSE Dev All Cap ex Controversies / Non-Renewable Energy / Vice Products / Weapon Index comprised 4,825 securities, while the MSCI World SRI 5% Issuer Capped Index comprised 386.
3 Source: Truvalue Labs, MIT Sloan School of Management. "Aggregate Confusion: The Divergence of ESG Ratings", Florian Berg, Julian F. Koelbel and Roberto Rigobon. August 2019.
4 Source: Sustainability Accounting Standards Board (SASB), as at 30 September 2020.