By Joseph H. Davis, Vanguard global chief economist
The Covid-19 pandemic has been breathtaking in its ability to unleash profound effects on nearly everyone in the world. Equally breathtaking are the biomedical advances that have enabled 47 vaccine candidates to reach clinical evaluation in recent months1.
News on Monday, 9 November, that one of those vaccine candidates appears to protect a vast majority from Covid-19 is raising the confidence of investors and public health experts alike. Vanguard earnestly hopes that further study confirms the good news and that a vaccine can be approved in the months ahead for broad use. It's conceivable that more of the vaccine candidates can report similar efficacy in the weeks ahead.
We're not surprised that this point was reached so quickly. The fields of genetics and biomedicine have been rife with innovative ideas in the last decade, and successes seem poised to have a cascading effect on productivity in the decade ahead. Our research has found that future productivity is fundamentally driven by the generation, dissemination and further expansion of ideas.
Idea sharing: A significant force for productivity growth
Our research introduced what we termed the "idea multiplier", a metric that quantified academic-paper citations over time within and across industries and countries, based on nearly two billion records. We found that idea-sharing is a significant force for future productivity growth and that a recent low-growth era was nearing an end.
The illustration shows how the idea multiplier as it's related to genetics and biomedicine has recently accelerated at a pace similar to that of computers and telecommunications nearly four decades ago.
Today's ideas in genetics and biomedicine are multiplying quickly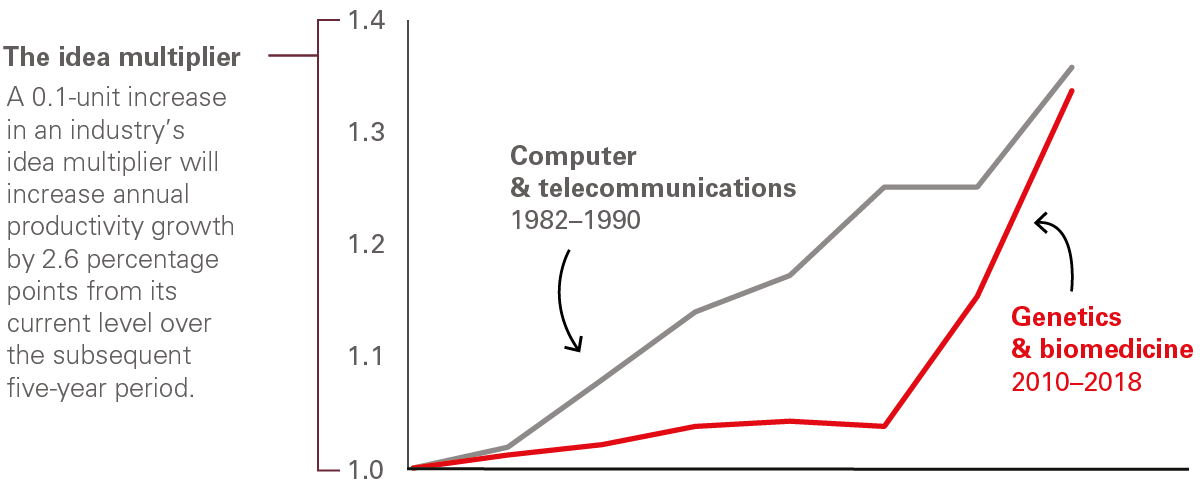 Notes: The idea multiplier is a proprietary metric that tracks the flow and growth of academic citations. It has been shown to be a leading indicator of productivity growth.
Source: Vanguard. Computer & telecommunications: 1 January 1982 to 31 December 1990. Genetics & biomedicine: 1 January 2010 to 31 December 2018.
We won't let our optimism about vaccine developments cause us to lose sight of the immense challenges ahead. The spread of Covid-19 is accelerating too, with more than 50 million cases reported globally to date and more than 100,000 new daily infection cases in some countries, including the United States, recently2. Production and distribution of a vaccine will take time.
Economies have recovered somewhat from the sharp falls they had suffered since the onset of the pandemic, but even a highly-effective vaccine won't lead to stronger economic growth overnight. Nevertheless, this crisis will eventually end and this week brought a tangible signal of that, one we know was a decade of idea-sharing in the making.
1 Source: World Health Organization, 3 November, 2020.
2 Source: Johns Hopkins Coronavirus Resource Center, 9 November, 2020.