Commentary by Samuel Lopez Briceno, senior European credit analyst.
Global investors were already nervous about BBB-rated corporate bonds before Covid-19 joined the world's lexicon. Significant growth in debt on the bottom rung of the investment-grade ladder, coupled with rising corporate leverage, left investors fearful that a recession could trigger a wave of downgrades to high yield, which would result in market dislocation.
Downgrades of BBB-rated companies to high-yield status (also known as "fallen angels") did pick up amid the sudden and deep recession brought on by the pandemic. But investors' worst fears didn't materialise, thanks in part to swift monetary and fiscal responses along with corporate proactivity in raising capital.
We are now entering the recovery phase of the credit cycle, and corporate fundamentals are likely to begin to improve. We now expect to see an increase in "rising stars"—companies moving out of high yield and into investment grade—and believe fallen-angel migrations will be muted.
US corporate debt levels have surged
With interest rates near historic lows, companies have had an economic incentive to increase their leverage and take on higher levels of debt. This has been driven in part by investor demand for additional yield, which has enabled companies to access finance at low rates.
Companies taking on more debt has resulted in rapid growth in the US investment-grade credit market. BBB debt grew notably during the decade ended 31 December 2020, leaving that segment as the largest of the investment-grade index, according to Bloomberg Barclays. The bulk of BBB debt is from companies in the United States—the US investment-grade market represents nearly two-thirds of the global market.
A lot of the pre-Covid angst in the credit market was owing to the run-up in BBBs. Investors were concerned about the risk of downgrades to high yield, which is highly correlated with economic cycles.
BBBs represent about half of the $6 trillion US investment-grade credit market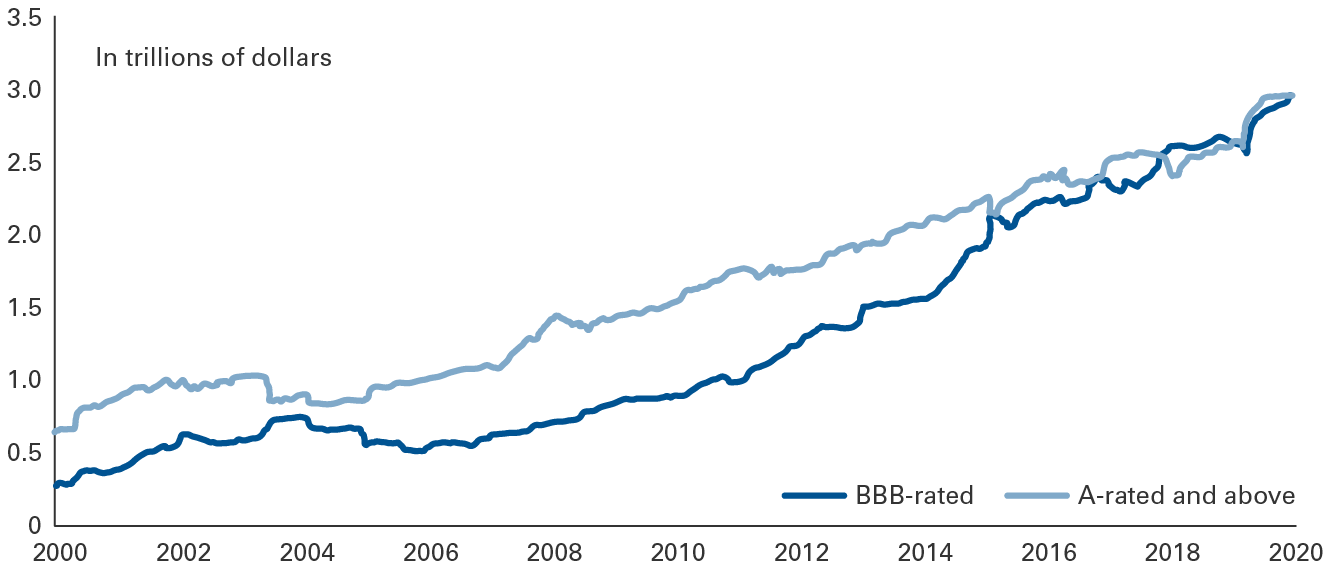 Note: This figure shows the par value of debt outstanding for US investment-grade issuers, ex-financials, from 1 January 2000 to 31 December 2020.
Source: Bloomberg Barclays U.S. Credit Bond Index as at 31 December 2020.
Factors mitigating downgrade risk for BBB-rated bonds
An often-used gauge of companies' gross leverage is the debt/EBITDA ratio—the amount of earnings available before taking into account interest, taxes, depreciation and amortisation expenses.
At the peak of the Covid-19-induced economic downturn, global corporate leverage hit multi-year highs as earnings slumped. Debt of companies rated A and above had risen to about 2.2 times EBITDA and those rated BBB hit about 3.5 times. The most leveraged companies in the BBB segment were at about 4.0 times EBITDA.
However, declines in leverage since then, especially as the earnings recovery has surprised to the upside, suggest the risk of a wave of fallen angels will lessen and the number of rising stars may increase.
Leverage of US BBB-rated issuers has eased significantly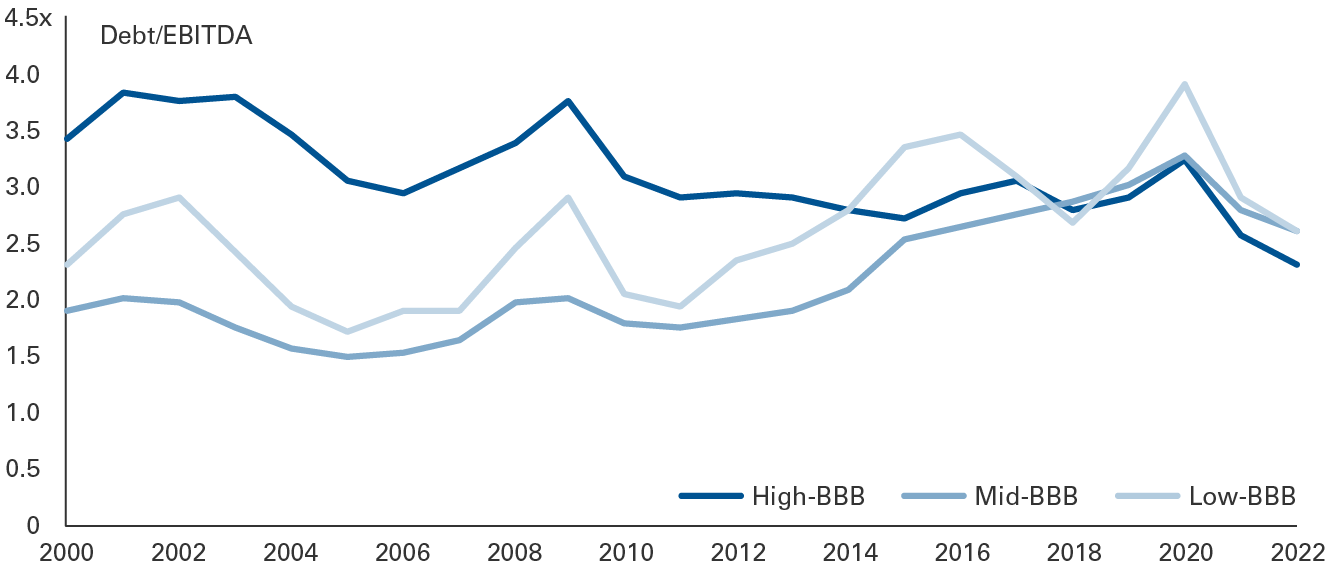 Notes: This figure shows debt/EBITDA for US BBB-rated issuers (excluding financials, which use different ratios) from 2000 to 2022. All data is based on full years. It is based on actual debt/EBITDA for 2000 to 2019; estimated debt/EBITDA for 2020; and consensus estimates for debt/EBITDA from Capital IQ for 2021 and 2022. Capital IQ data were accessed on 1 February 2021.
Sources: Vanguard and Capital IQ.
Interest coverage, another important metric of companies' ability to pay the interest on their outstanding debt, did not weaken as much as the leverage ratios, likely because of the impact of low interest rates.
Corporate managements proactively raised capital during the peak of last year's crisis, and the increased corporate cash balances buffered elevated debt levels. In periods of financial stress, such as during the 2008 global financial crisis, companies tend to enter self-preservation mode, where they build up their cash balances to position themselves for uncertainty and to increase liquidity. This phenomenon occurred in the wake of the Covid-19 outbreak, with cash held by US corporations increasing nearly $400 billion compared with 2019.
BBB-rated bond issuers have stockpiled cash amid the pandemic
Notes: Cash and equivalents are for US BBB-rated issuers (excluding financials) from 2000 to 2020. All data is based on full years. The data include actual cash and equivalents for 2000 to 2019 and estimated cash and equivalents for 2020. Capital IQ data were accessed on 1 February 2021.
Sources: Vanguard and Capital IQ.
Ratings agencies have largely taken a wait-and-see approach
The liquidity cushion built up by corporations through significant capital raising in 2020 has enabled rating agencies to be patient with companies, giving them time to manage down their high debt loads. At the same time, governments and central banks globally provided sufficient fiscal and monetary support to ensure that the worst of the economic downturn, while severe, was short-lived.
It's worth drawing credit distinctions between BBB issuers in more and less economically sensitive (cyclical and non-cyclical) businesses. Non-cyclicals such as consumer staples and utilities make up the larger slice of the overall BBB bond index, and the growth of their overall debt outstanding has outpaced that of cyclicals including airlines, hotels and retail. Cyclicals are more volatile over time, and their profits are typically harder hit in recessions. Within this group, low-BBBs in the issuers more sensitive to the pandemic were at the highest risk, and this was reflected in their valuations.
US recovery tracking ahead of Europe
Corporate leverage and cash balances have been improving—declining and rising, respectively—in Europe as well, but trailing behind the US, and the market has already factored in a lot of the recovery.
A boost to market sentiment from the roll-out of vaccines has been partly offset by the reintroduction of lockdowns in parts of Europe. And while we believe that monetary and fiscal stimulus will continue to contain the yield premiums that corporate bonds must offer above government securities to attract investors, it will also continue to hurt banks' profitability.
Companies directly affected by persistent lockdowns, such as traditional retail companies, may not fully recover for some time, leading to potential earnings disappointments in 2021. Despite the extraordinary government and regulatory measures being taken, uncertainty remains about the impact of extended lockdowns, the risk of a further wave of Covid-19, and the outside chance of potent new variants.
All in all, Vanguard's credit research team's focus will continue to be on security selection and bottom-up analysis. Our experienced global research team of 30-plus credit analysts proactively seeks to identify idiosyncratic credit drivers that we believe provide diversified sources of alpha.
Where Vanguard analysts see opportunities for active management
Vanguard believes that Covid-19 infection rates are paramount to how quickly the global economy recovers. A full recovery in both the economy and the corporate credit market will hinge on vaccination success and economic normalisation. While spreads are historically tight, we believe select idiosyncratic opportunities still offer attractive risk-reward.
Market expectations over the next 12 to 24 months are for debt ratios of companies rated A and above to fall from about 2.2 times EBITDA to about 1.5 times and for debt ratios of companies rated BBB to decline even more sharply, from about 3.5 times EBITDA to about 2.5 times. These estimates are based on EBITDA growth; any debt pay-down through free cash flow would result in further credit improvement.
Vanguard has positioned its active funds throughout the pandemic to benefit from slow but progressive improvements in BBB-rated issuers' leverage ratios. We believe the worst in terms of credit deterioration is behind us. However, as interest rates rise, investors need to be cognisant of the risks in longer-duration bonds. We remain neutral on credit valuations and will be looking to pick our spots.
Written in collaboration with Maria Colangelo, Vanguard senior credit analyst and co-head of the global industrials team, and Arvind Narayanan, a Vanguard senior portfolio manager and head of investment-grade credit.
Vanguard Active Fixed Income Team assets
Vanguard's Active Fixed Income team manages $275 billion globally in fixed income assets (as of 28 February 2021), expressed in US dollars.
Our active bond funds managed in-house